GoLocal member Net101 shares hints and tips about social media for local businesses.
By: Stormy Knight
July 24, 2012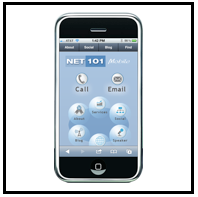 Many small businesses feel intimidated by getting started in social media. Granted, getting a Facebook or Twitter account set up takes a few steps and some technical know-how, but once the accounts are set up, then the really scary part is - what do you say?

The good news is that if you are a "social" person, you probably have the skills you need to do well in social media. You just need to think about how what you say and do adds value to your followers and readers lives. Here are 10 secrets I've learned to keep in mind when venturing out into the social media jungle.

Secret #1. People will buy from you when they like, know and trust you.
The way to do that is to try to include 90% value and 10% sale in the overall amount of communication's that you do with your clients and customers in social media.

Think of your client's interests as they relate to your business. What would they find valuable that you know or understand? What knowledge would make them better customers? What information would make them use and understand your products and services more? This is good social media content.

Secret #2. Customize your Twitter, Facebook, Google+, Yelp and FourSquare listings.
Consistency in color, fonts and design can tie your social media accounts to your other company branding, such as your website, advertising and print materials. This is your company's face to the world - make it have impact. Plus, it makes your company more memorable and easily recognizable too.

Secret #3. You do not have to read your entire Twitter feed! (and other social media feeds)
It's not just you - all social media is a huge a time sink! You have no responsibility for reading all of the content of your social media accounts. The social media police will not knock down your door is you don't read the feeds of everyone who follows your business. Believe me, I felt a huge weight come off my shoulders when I heard this the first time. What you do need to do is monitor direct messages to you and mentions (see Secret #6) of your business–that's it. Everything else is completely optional.

Secret #4. For customer communication; focus primarily on Facebook, Twitter, and Google+.
Most other social services besides these three do not have enough people to be worth your time. And the only reason to add Google+ is due to its effect on Google+ local listings, which is part of local search engine optimization, which I will cover in depth in another article.

These three will cover almost all of your customer base. The only other thing you should consider is if there are online groups that serve your local community or business niche.

Secret #5. For local social media and location-based marketing focus on Yelp, FourSquare and whatever Facebook finally comes up with.
Yelp is the information data source for Siri on the iPhone4S. Siri serves up answers based on the reviews in Yelp. With millions and millions of iPhone4S users, Yelp becomes a de facto search engine for a large group of customers.

FourSquare is free for small business people and can generate new customers for restaurants, entertainment locations, tourist attractions and other places where people frequently meet or get together.

Facebook has made several attempts to figure out how they can benefit from people reviewing and checking in with local businesses. They are currently not pushing any particular check-in system but have purchased several companies that work in that space, so it is likely that they will roll out a stronger service in the future. With over 900 million users, any Facebook check-in service, when properly promoted, will drive traffic to businesses that optimize for their system.

Secret #6. Monitor what people are saying about your company in social media
On Twitter, or in any Twitter reader, there is usually a category of "Mentions". You should set this as a column for you to check on frequently, preferably daily.

You can use Google Alerts (http://www.google.com/alerts) to listen across the Internet. You can set preferences to be notified by e-mail or inside of an RSS reader for the appearance of any word that appears on the Internet. Listen for your competitors names, industry information, and your company name. This will keep you from having bad things said about your company and never knowing about it.

There are paid services that will aggregate all social media accounts for your company and all mentions of your company in one place. These can be big-time savers. One service is postling.com. Another place to monitor reviews of your business is myreviewspage.com. You need to listen because…

Secret #7. Social media is the new customer service
Younger generations expect to communicate with businesses through social media. They will comment to their friends regarding good and bad service and will expect a company to respond when they post a rant online.

You can diffuse a poor customer service experience with good social media, then you need to go back into your business and fix whatever caused the poor customer service in the first place.

Secret #8. Use tools for posting to social media to make it easier, efficient and less time-consuming
The first thing you'll want from any tool you use for posting on social media is the ability to delay postings so that you can do a day's worth of posts in just a few minutes, and yet appear to your followers on social media throughout the day. In Secret #6 I mentioned postling.com, which does this and there are others such as hootsuite.com. This is a major timesaver and allows you to think about what you plan on saying or offering each day.

You are also going to want to use a tool that shortens long URLs (web addresses). Most social media posting tools have this built-in, but if you are going to be posting by hand, at least sign up for an account at bit.ly. This will allow you to use links and URLs back to your business without eating up whatever room is allocated for posting your communication.

If you plan on posting throughout the day, you'll probably want to use your smartphone. There are excellent applications for both iPhone and Android for this purpose.

You should shoot for less than 30 min. per day for posting and monitoring of your business. Anything more than this and you may be wasting valuable time. You can pay someone to do this for you, but make sure they know what it is you want to say and can respond intelligently on behalf of your business.

Secret #9. Ask questions, answer questions, increase engagement
Engagement is the key to standing out and connecting to your customers. What is an easy way to create engagement? Asking questions. Human communication has a high percentage of questions and answers. People want to help and they want answers. Unasked and unanswered questions are almost always barriers to the sale.

Another benefit of asking questions is that you can ask real time marketing questions and get answers from your real customers. This is extremely valuable to any business. By asking "either or" type questions, such as "Would you like a 5% discount on Saturdays or $10 off a purchase of $50 or more on Saturdays", you can get people to be invested in the outcome of your discount program.

Secret #10. Offer a compelling reason to join your company on social media
"Sign up for our free newsletter" is not a compelling reason for someone to join your company on social media, or even give you their e-mail address for that matter. The number one reason that people sign up on social media and e-mail lists is for notifications on discounts, coupons, specials and prizes. You should try to think of an interesting offer that will lure people into your business at least a couple times a week, daily if possible, and post it in social media.

As we mentioned in Secret #1, tips, tricks, how-to's, quizzes and quotes that inform, amuse or add to the knowledge of your customers are good content for social media. Links to videos about your business, new blog posts, thoughts as the owner of your business and resources related to your business are also good. Anything that makes your social media follower a more qualified buyer of your goods and services is a win for you and a win for them.

Remember to have fun and be interesting. Boring doesn't work well when the rest of the Internet is one click away.

Come to social media with a willingness to serve and provide real value to your customers and you will be successful.