Feb. 13, 2013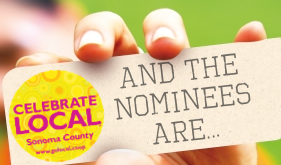 Nominations close March 8, 2013 for the 4th Annual Member Meeting and Board Election on March 26.
Click here to see a bio of all eleven current (2012-2013) board members.
There are 5 seats open and 5 nominees. Nominate a candidate here.
---
2013-2014 Nominees:
Philip Beard, Ph.D. (current board member)
Emeritus professor of German at Sonoma State University, Dr. Beard co-designed and from 2000 to 2005 co-coordinated the Global Studies B.A. program there. His interest in complementary economics stems from his extensive study of the roots of violent behavior. Since the early 1990's, Dr. Beard has collaborated on various projects aiming to design and implement robust, sustainable mutual credit programs at the regional level. The current design, "Sustaining Capital," forms an important part of the Sonoma County GoLocal Cooperative's long-term plans. Dr. Beard is a co-founder of GoLocal.
---
Derek Huntington (current board member)
Derek graduated from San Diego State University in 2005 with a B.S. in corporate finance and a minor in international politics, and is a level 2 candidate for the Chartered Financial Analyst designation. Working as a socially responsible financial advisor brought the realization that for investing to be truly socially responsible it must also be locally responsible. Since that epiphany Derek has been working to design and implement community-friendly credit and financing structures, culminating in the development of the Sustaining Capital model. Derek is the President of Sonoma County GoLocal and the managing member of Sustaining Technologies, LLC - the company providing web development services and the GoLocal Rewards Card to the cooperative.
---
Bruce Kunkel (current board member)
As co-founder of the Santa Rosa Integral Salon, Bruce is active in local integral community organization. He is managing partner of Bruce Kunkel - Integral Human Capital, providing organization development, executive search and integral coaching/consulting. Bruce founded and ran Dovetail, Inc., a high-tech Silicon Valley-based executive search firm, and Zenbod Corporation, an innovative "mass customization" fashion apparel company. Bruce has been a successful high-tech organizational consultant and has been a manager and advisor for non-profit and community service groups. He has coached and counseled individuals and businesses through integral change, and has taught university-level statistics and experimental design. In his "spare time," Bruce composes, records, and performs music. A co-founder of the Nitty Gritty Dirt Band, Bruce has recently released a CD, Kunkel & Harris. Look for it at kunkelandharris.com.
---
Chris Mann (current board member)
Chris is the Chairman of the Gourd for Guayaki Sustainable Rainforest Products, a Sebastopol-based importer and marketer of Guayaki Yerba Mate and other rainforest products. Guayaki grows its products sustainably within the South America's Atlantic Rainforest and currently sustains and/or restores nearly 20,000 acres of rainforest, 34 indigenous families and over 300 bird and mammal species. Chris earned a BA in Economics from Harvard University but quickly realized that economics conveniently forgot about sustaining the environment and protecting people. Through his experience with Guayaki and previously with Natural Flavors, a 100% organic, vegan restaurant that employed 25 people and 60 local farmers, Chris is finding that by recognizing common purpose, seemingly disparate groups can integrate social justice, environmental restoration and economic success.
---
Julie Kawahara
Julie is the owner of Kindred Fair Trade Handcrafts in downtown Santa Rosa and has been a member of GO LOCAL since taking ownership in August 2010. Prior to working in retail, she was a consultant for public and non-profit organizations throughout California. Her focus was on program planning, organizational development and evaluation services with expertise in facilitation, strategic modeling, and managing change. Julie has a degree in Health Education from University of Illinois in Champaign-Urbana.
She has strong convictions about the GoLocal model and how the business community and the community at large can work together to improve our local economy. Julie strives to forge collaborations that are mutually beneficial and look for opportunities that are aligned with the mission and vision of GoLocal. Although she has a specific interest in the downtown of Santa Rosa, she's eager to learn about the needs of our business partners in Sonoma County as a whole so that she may contribute to the greater good.