About the Survey
GO LOCAL conducted a survey (Nov 2016) among our community of rewards cardholders, newsletter subscribers and Facebook friends within Sonoma County. We asked them to answer questions about their shopping habits and preferences.
(Confidence level 95% and a Confidence interval of +/-6)
By: Terry Garrett
Nov. 21, 2016
Click on the 1-page survey results PDF below to enlarge it.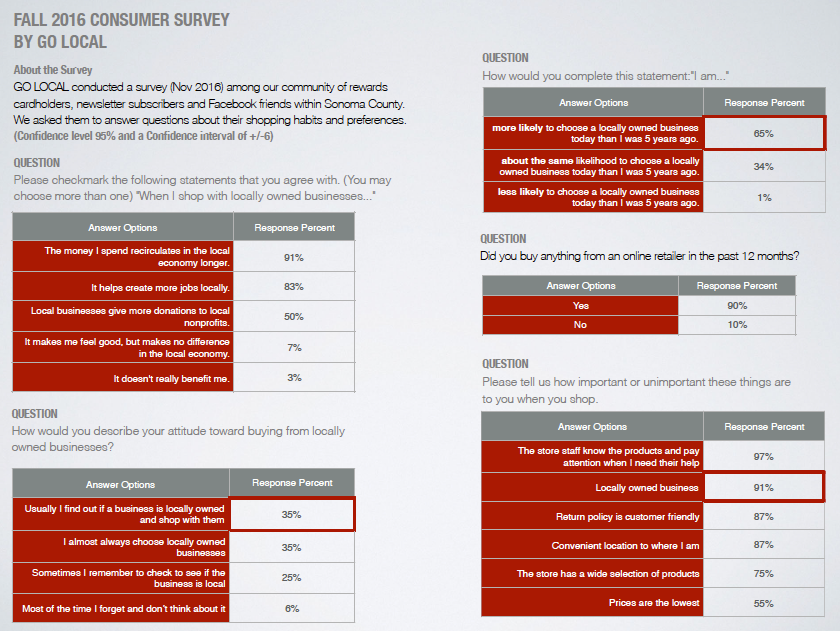 ---
How Different Are GO LOCAL Fans from Mainstream?
The really cool thing about surveys is that they help us see similarities and differences. And there are some real differences between GO LOCAL fans and mainstream consumers.
First, we should see the similarities. 90% of GO LOCAL fans have shopped online in the past 12 months. That's in line with national trends. The ability to shop online with a mobile device has accelerated the number of people who shop online. The differences start to emerge when asked "how often you shop online" and "how much do you spend online". Millennials and higher income households lead the pack of online shoppers.
NATIONAL SURVEY: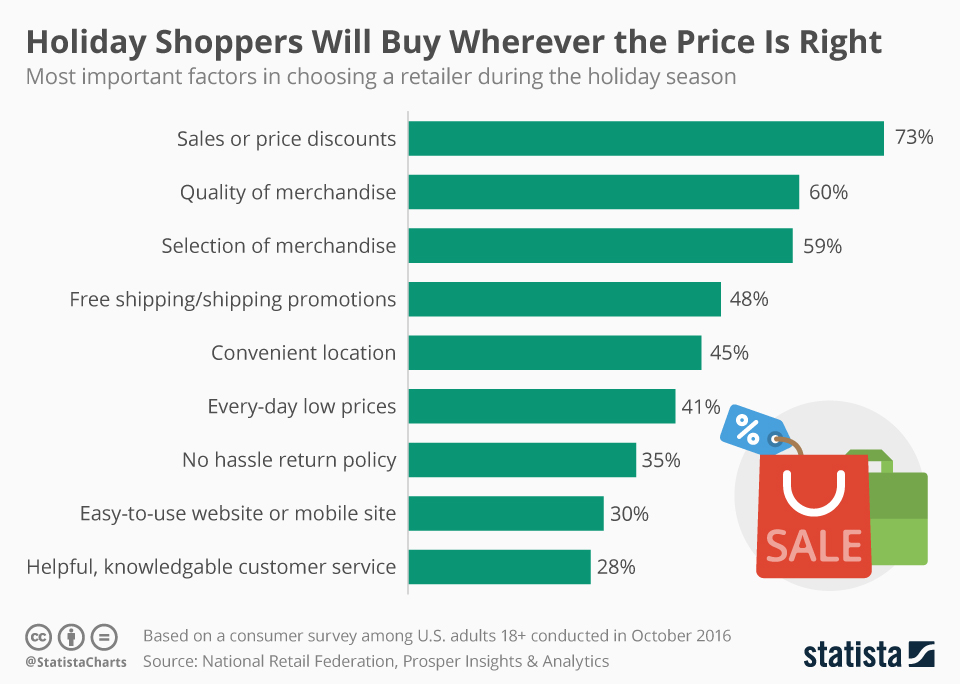 Now, take a look at the chart to see what matters to mainstream shoppers nationwide. One word: Price. And in the last position: Customer service. Most of us like sales and discounts, you know, saving money.
You can readily see the influence of online shopping by the fact that the fourth most important factor is free or promotional shipping.
Mainstream shoppers also have high expectations of sellers when you consider that they want to have low prices, plus high quality and a wide selection of merchandise.
Oy vey, consumers have inverted the power hierarchy of retail shopping!
---
Looking at the survey results of GO LOCAL fans, you see two striking differences.
Customer service, meaning "I expect store personnel to know their merchandise and help me when I need it", is number one by importance.
And then there is the one attribute that sets GO LOCAL fans apart from the mainstream—local ownership of a business matters. Lastly, the lowest price is the least important factor to them.
GO LOCAL SURVEY: