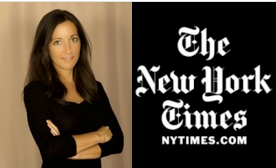 ---
Award-winning journalist Amy Cortese was the keynote speaker at the 2012 Invest Local Conference. She is also author of Locavesting: The Revolution in Local Investing and How to Profit From It. Go here for details on the lineup for the 2013 Invest Local Conference on September 26.
---
Seeking Capital, Some Companies Turn to 'Do-It-Yourself I.P.O.'s'
Published July 31, 2013 in the New York Times.
By Amy Cortese
Flying back to California, empty-handed, after one last investor pitch in late 2011, Brahm Ahmadi was ready to call it quits. Despite a track record, a clear market opportunity and a loan pledge, he had not been able to attract a single investor. He called his lawyer and told her, "We hit a wall."
Mr. Ahmadi , the founder ofPeople's Grocery, a nonprofit focused on food justice issues, hoped to open a commercial grocery store that would offer fresh produce in West Oakland, Calif., a so-called food desert, meaning its 25,000 residents have few healthy food options. A public-private loan fund, California FreshWorks Fund, had issued a letter of intent to lend Mr. Ahmadi two-thirds of the $3.6 million he needed to open the People's Community Market. There was just one condition — he would first have to raise the remaining $1.2 million from investors. Mr. Ahmadi spent a year pitching to angels, social investors and private equity firms, but most were looking for double-digit returns and a clear exit strategy....