By: Terry Garrett
Aug. 16, 2009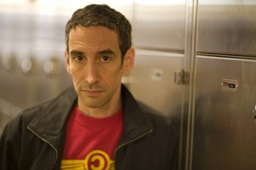 Douglas wrote Life, Inc.: How the World Became a Corporation And How To Take It Back. The fact and irony that the book is published by Random House, a subsidiary of Bertlesmann AG, one of the world's largest media companies is not lost on the author who mentions the dilemma we all face in an corporatized world.
You can check out his bio here.
Author Douglas Rushkoff speaking at Web 2.0 expo and conference in San Francisco in April 2009. Thanks to O'Reilly Media for making this available.
This next video presents a synopsis of Rushkoff's book, Life Inc.. It's the first in a series that explains the birth and rise of corporatism and the abolishment of local currencies and economies in favor of a centralized, corporate economy.
Life Inc. The Movie from Douglas Rushkoff on Vimeo.