By: Nica Poznanovich
Dec. 14, 2012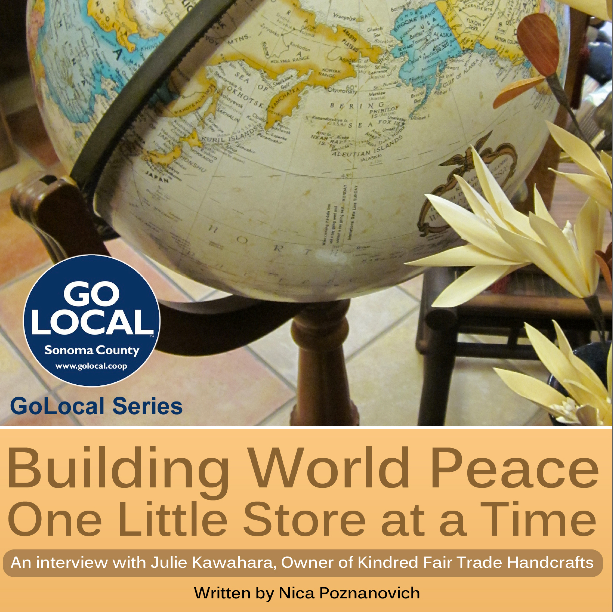 ---
How long have you been operating Kindred Fair Trade Handcrafts?
I have been operating the business for 2 years but the former (and original) owner operated the business for 8 years.
---
You have a background in public service and non-profit management, so what drew you to retail? What drew you to Kindred specifically?
(Laughs)There was really no plan to move into retail. I was shopping at Kindred during the 2009 holiday season and was struck by the beautiful, multicultural handcrafts. I felt inspired by the economic and social mission of the store and realized how important fair trade is to leveling the playing field for impoverished communities around the world. I knew that I could use my experience in the non-profit sector to bring these products to market and really tell the artisans' stories. I wanted to communicate their value both to people who shop in my store but also to the people and communities who are producing the items we have in here.
---
What is it your company's definition of Fair Trade and how does it determine what products you bring into the store?
We are members of the Fair Trade Federation (FTF), which is a member based group in North America. There are nine principles by which the organization insists each member follow: Create Opportunities for Economically and Socially Marginalized Producers, Develop Transparent and Accountable Relationships, Build Capacity, Promote Fair Trade, Pay Promptly and Fairly, Support Safe and Empowering Working Conditions, Ensure the Rights of Children, Cultivate Environmental Stewardship, and Respect Cultural Identity. All of our producers must adhere to these expectations. It is wonderful to know that you are supporting a culture and a community through a for-profit business.
There are vendors that have worked with collectives and cultures for decades; building schools and health clinics, teaching computer classes, providing management and financial training, etc. Our wholesale vendors support the artisan producers to ensure they meet the demand with quality products, sometimes providing loans or retainers to complete orders.
By doing business with FTF members, I am assured that the products are in fact, Fair Trade, which means I do not have to conduct audits on the thousands of products in the store. There are other organizations, such as TransFair USA, that certify Fair Trade commodities such as bananas, chocolate, coffee, tea, sugar, rice and quinoa.
---
Why did you decide to become a GO LOCAL member?
Like many of us, I am concerned about our local economy and GO LOCAL is so relevant to what we all have been experiencing in these last few years. They support small, local businesses which is what my business is motivated to do as well. I particularly appreciate the co-branding marketing tools that we share and the networking opportunities.
Existing under the GO LOCAL umbrella gives all of the businesses a chance to collaborate, lean, and grow from one another which is a wonderful way to build a strong community and support a thriving local economy. It is also a great resource to help people find businesses that contribute to the community in ways other than simply offering a product or service. I am proud to be part of a creative and economically minded organization.
---
The "GO LOCAL" message (providing local jobs, keeping capitol in the local economy, etc) is really starting to take hold here in Sonoma County; how do you see Fair Trade fitting in with those ideals?
First and foremost, Kindred is a locally owned small business that is aligned with the GoLocal mission. I have lived in Sonoma County for almost 15 years and employ 2 staff members year round with the majority of our earnings spent right here in Sonoma County. The essence of GoLocal is to be connected with the people you are purchasing from and for consumer dollars to stay locally.
With Fair Trade, a consumer is making a conscience choice to purchase a product that contributes to the social and economic well-being of individuals and communities within the global context. This allows our customers to have a connection and impact both locally and globally. Fair Trade is an ethical business model, as is GoLocal!
---
When you hear the word "sustainability" people often think of the environment or energy but Fair Trade is deeply rooted in the idea of sustainability. Could you tell us how?
There is a whole chain of events that occur when a product is made under the scope of Fair Trade. The environment, as mentioned is one of the first things people think of and Fair Trade responds to that. There are collectives of men in Kenya who collect discarded bones to make jewelry, communities who repurpose plastic to make bags, baskets and other items, people who take old bike parts and make sculptures etc. Many of our products are made from reclaimed materials.
But sustainability also refers to economic sustainability. When there is a natural disaster, like the earthquake in Haiti, Fair Trade organizers didn't just send in relief with blankets and food, but gave the people a vehicle to create jobs and jump start the country's economic vitality. By creating a large western market for the beautiful wall art from up-cycled oil drums, the craftsmen of Croix de Bouquet of Haiti have consistent work at a fair wage. Fair Trade takes what makes a culture rich and proud and teaches them to use it in a way that supports them economically and treats them fairly. We are able to open the Western market for them, something they would never have access to without the power of Fair Trade backing them.
Fair Trade creates a respectful dialogue that is based on transparency and collaboration as opposed to exploitation. All along the supply chain, Fair Trade is able to create economic, cultural, and environmental sustainability while helping these communities feel proud of who they are. This is what world peace is all about right?
---
Can you tell me about your two most favorite products in the store?
We have a lot of favorites, but we really like the Avatar clothing line. The two owners are from Santa Cruz, Ca. and have been working with the same collective in Nepal for over 30 years. They are incredibly responsive and fun to do business with.
Another product are the dolls from Batsiranai. This is a collective based in Harare, Zimbabwe and was started by a group of mothers with disabled children. They make t-shirts and other items but are known for their beautiful dolls with babies in a pocket that has the signature embroidery. These mothers and their children are generally shunned and extremely disadvantaged in Zimbabwe. The income they make from these dolls and other products go towards the extensive medical bills, education, and are a source of independence for women because they generate their own money.
So many of the products here have a story and a cause and we feel that all of these are what make the store vibrant and humble.
Remember to stop into Kindred Fair Trade Handcrafts, 605 Fourth St. to find the most beautiful and unique hand crafted gifts. (707)579-1459 or visit on the web.