Chantill Lopez answers the GoLocal questionnaire to help you better know the people behind the business.
Jan. 18, 2011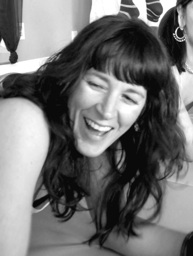 Chantill Lopez of Pilates Collective
GoLocal Member since 2010
What is your fondest memory of living in Sonoma County?
After living in Sonoma County for 15 years, still my fondest memory is of the drive I used to have to make from Santa Rosa to Forestville everyday along Guerneville Road. I remember thinking "I can't believe I actually live here." The moment that thought struck me, one evening at dusk, is so deeply rooted in my heart that I think about it at least once a week. Since then, of course, I've had the pleasure of having many more beautiful moments here, each time being overwhelmed with the same since of gratitude.
Describe what you experience as the greatest treasure of Sonoma County.
For me, the greatest treasure is the county's natural beauty; diverse, prolific and accessible, I can't imagine a better place for my child to grow up with an appreciation for what our planet has to offer. At least once a day I find my breath is taken away by it.
What for you defines 'quality of life'?
The ability to create a life full of friends, family, community, a sense of belonging, the opportunity to give my son a good education, to eat and drink knowing just where my food comes from and to be surrounded by not only natural beauty but art, science and learning. These are all components of what I consider quality of life.
What gets you really excited about your business?
The people and the never-ending path of exploration. Pilates is so much more than just exercise, even more than movement. It's about learning and discovering; it's about cultivating awareness. When I am working with students it's a joy to see them feeling, sensing and enjoying their bodies in a new way. Nothing I've ever done has given back to me in such a powerful and lasting way.
Thinking about your business, what keeps you up at night?
What keeps me up at night is thinking about how to encourage students to maintain a practice: How do we create threads from what they are doing in the studio to practicing at home and making real change in their bodies; How to instill in our students an understanding that Pilates, and movement in general, is a lifelong practice.
If you could have one wish come true for Sonoma County, what would it be?
Better public transportation, specifically a commuter train to San Francisco.
What is your favorite quote or motto?
So many...but I've started off the year with a reminder from a friend: "Don't do anything for money that you wouldn't do for free."
What or who do you most admire in Sonoma County?
All of those who take action and make an effort to make the lives of their fellow human beings better. Otherwise, I greatly admire our coastline.
What brought you to Sonoma County?
My family moved here about 17 years ago and I followed.