April 11, 2018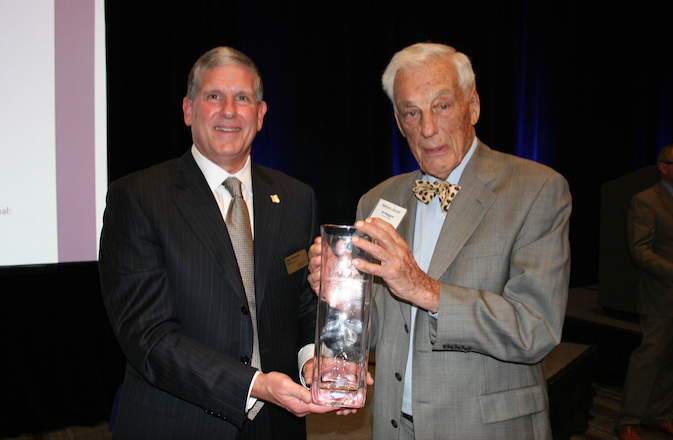 Exchange Bank (OTC:EXSR) named Al Maggini as this year's winner of the Frank P. Doyle Philanthropy Award, honoring local businesses and their leaders who meet critical community needs.
At 102 years old, Al Maggini is a lifelong philanthropist. A staunch supporter of both the Santa Rosa Junior College and Santa Rosa Memorial Hospital, Maggini's extraordinary 63-year record of commitment and leadership with the Santa Rosa Memorial makes him one of the most enthusiastic and effective fundraisers the hospital has ever had. Maggini founded the Santa Rosa Memorial Hospital Foundation in 1991 and remains a member today.
The goal of the Doyle Philanthropy award is to select an individual or organization that both reflects and shares the core values of bank co-founder, Frank Doyle, in giving back to the community.
"There is no question that Al Maggini is making a significant difference in our community," said Gary Hartwick, president and CEO of Exchange Bank. "Giving is not an art – it's a habit – a culture – and it's the legacy of Exchange Bank and Al Maggini. Al does not give for personal gratification, he does it because he is a caring person."
Maggini served 33 years on the board of trustees at Santa Rosa Junior College, and was honored by having a building named after him. Maggini Hall, the only three-story structure on the Santa Rosa campus, was completed in April 1990.
In honor of his late wife, Helen, Al endowed the Al and Helen Maggini Legacy Society to improve the health and quality of life of people in our community—especially underprivileged children. Maggini is also a long-term supporter of the Hanna Boys Center.
When asked to serve on the SRJC Board of Trustees, Maggini responded with the question "why choose me?" Randolph Newman, SRJC's president at that time, answered "Because you have enthusiasm." At age 102, he still has that enthusiasm.
---
About Exchange Bank
Headquartered in Sonoma County and founded in 1890, Exchange Bank is a premier community bank with assets of $2.6 billion. Exchange Bank provides a wide range of personal, commercial and trust and investment services with 18 branches in Sonoma County and a commercial and SBA lending office in Roseville and Marin, California. The Bank's legacy of financial leadership and community support is grounded in its core values of Commitment, Respect, Integrity and Teamwork.
Exchange Bank is a 12-time winner of the North Bay Business Journal's North Bay Best Places to Work survey and received the 2017 Healthiest Companies in the North Bay award. NorthBay biz magazine named Exchange Bank 2017 Best Consumer Bank. Exchange Bank can also be found in the North Bay Business Journal's listing of leading SBA 7(a) Lenders, Wealth Management Advisors and Wine Industry Lenders. www.exchangebank.com.