A hidden Santa Rosa gem, Community Market has been providing the community access to the finest natural, organic, and vegetarian foods for 35 years.
By: Nica Poznanovich
Oct. 6, 2010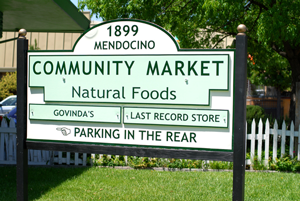 Community Market is a worker-run vegetarian business. Our mission is to create a healthier and more sustainable community by providing local, organic, and socially responsible products and education about nutrition, environmental and consumer issues. Our values are evident throughout our store and specifically with the products we choose to sell.
We have a product policy that screens every single item before it comes in to ensure our store is free of irradiated foods, products tested on animals, eggs from hens in cages, bleached white flour, companies with unfair labor practices, etc. In a similar vein, we highlight products that meet our highest standards of the product policy. We strive to make the shopping experience unlike any other organization by taking the time to research ingredients thereby taking the guessing out of your shopping.
Our produce department is 100% organic, and our body care department has spent countless hours researching every product to see which are absolutely clean and make that information available to you!
What makes Community Market different is they way we, as an organization CHOOSE to operate. We choose to be a not-for-profit business, which means we distribute all of our profits back into the community via donations, discounts, and services. We donate to countless organizations within the community including; Leadership Institute of Ecology and Economy, United Against Sexual Assault, Forgotten Felines, Common Vision, CAFF, KRCB, California Homemakers Association, Artstart, North Bay Conservation Corps, Sonoma County Bicycle Coalition, Sonoma County Asthma Coalition, Buckelew Programs, Climate Protection Campaign, Volunteer Center of Sonoma County, Santa Rosa Junior College, Laguna de Santa Rosa Foundation, and so many more.
We also have the most comprehensive discount program enabling us to give over $150,000 directly back into the hands of the community; we provide a discount for students, the disabled and Face-to-Face members everyday, a discount to seniors 3 days per week, and teachers 2 days per week. We also have discounts imbedded into our prices, as is evident with our "lifeline program" which provides healthy, staple pantry items at cost!
Community Market also acts as a model for sustainable business practices. We refuse to use bleach or other harsh cleaning chemicals on the premises, as well as toxic paints and construction supplies. We have a comprehensive recycling program and provide our customers with all bio-compostable to-go containers.
This year we are taking a step every month to become a greener business. We stopped carrying individual size plastic water bottles, charge for the use of paper bags, bought a bicycle for our staff to use for errands and events, installed low flow toilets and the Dyson hand dryers in our bathrooms, and will end the year by becoming a Sonoma County certified green business.
The way we choose to operate also enables us to provide our workers with one of the most incredible employment opportunities in the county! All of our employees are paid a living wage, receive a 20% discount at the register and an even deeper discount for supplements and case orders. We also provide free massages to our employees, pay 90% of their medical premium, and provide educational opportunities for our staff to travel throughout the country leaning about issues concerning the natural foods industry. We embody what a true worker-run business should be.
Our Board of Directors is comprised of democratically elected members of the staff which creates a true "checks and balances" system within our organization. We provide our staff with an avenue to reward each other for providing great service which reinforces a sense of family and connectedness. I invite you to walk through our doors and be a part of that family. We are the only business who has dedicated its existence to you and your community.
If you haven't had a chance to visit us, the perfect time would be on October 22, 2010 when we will donate 10% of our total store sales to the medical fund of a 6 year old shopper and her family. Please come and join us to be the greatest community resource we strive to be!
Click here for Community Market's GoLocal Rewards Card specials and a map to their location.