Oct. 6, 2011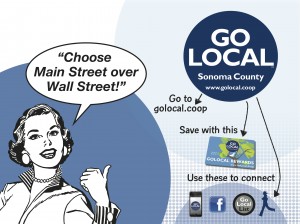 It's easy to imagine that nearly everyone is rooting for the OWS protesters. Except, maybe the ones who acted irresponsibly, without compunction and with an arrogant disdain for everyone except themselves.
Last year around his time, we refreshed our Local First posters. This year we decided to give a nod to what is now a groundswell movement: "Choose Main Street over Wall Street".
While the protesters are bringing attention to the incredible harm caused to the global economy, let's take responsibility for changing the system and rebuild Sonoma County's economy. Let's use our local resources to build the busineses and create that jobs that make us more self-reliant.

Want to do that? Then Bank Local.
Buy local and bank local. Look at GoLocal List (on smart phones and tablets too) to find local retailers, banks and credit unions and service providers. Do business with them over the global chains who are largely supported by the Wall Street machine.
Use GoLocal Rewards Card to save money and show your support.
Connect with us on Facebook. Visit our members and let them know you support them. Come to our happy hours and events.
In case you're interested we have linked to a number of the stories flooding the web over the past week or so. We'll update this as we discover more. Send story-links to us at info@golocal.coop.
---
Yes! Magazine: #Occupy Wall Street full coverage
As the ranks of Wall Street protesters swell and solidarity spreads in other cities and nations, many Americans are asking, Why do they do it? And what do they imagine could replace Wall Street?
After 15 years of outspoken criticism of the financial system, David Korten talks about moving back to a Main Street economy, and tells protesters nationwide why they give him hope.
Press Democrat: Organizers gear up for 'Occupy Santa Rosa' rally
Organizers of an 'Occupy Santa Rosa' event on Saturday say they are part of a growing national protest against the influence of the superwealthy.
Press Democrat: Op-ed from Eugene Robinson
Reuters: Occupy Wall Street, the start of a new protest era?
"It felt in my gut very much like what I was a part of in the 1960s," Friedman said. "What people are expressing ... is an experience that their opportunities are shrinking, not growing and their hopes are shrinking, not growing, and that is an unnatural feeling for the young," he said.
Huffington Post: The Endgame of Occupy Wall Street Is Critical Mass
Occupy Wall Street is not anti-capitalism. We don't live in capitalism. Capitalism is supposed to be merit based and left to the market -- consumers -- to decide where innovation and service is found. What has been foisted on us again and again is not a fair and open market. Massive companies spend huge sums to avoid paying taxes altogether. They then spend money to back politicians that will be friendly to them, in terms of regulations and tax breaks or pressure on rivals. This is a system of massive corporate welfare, where the biggest corporations pay the least to the country that allows them to prosper, while they spend their excess money in hopes of making more money through lower taxes, government jobs, or loosened environmental restrictions. Election cycles ensure ongoing opportunities for candidates to be wooed with money or threatened with ads. The more they spend on the race, the more indebted candidates become to their backers. Those that become elected repay their backers with loose oversight, no-bid contracts, and even accept their donors' legislation pre-written. We don't live in capitalism -- that's favoritism.
Huffington Post: Some news is so big it needs its own page. Lots of videos and photos.
Truth must be spoken to power. Eventually, all change starts there, by ignoring the odds and the threat of punishment, by standing up and saying "I accuse you of injustice."
Occupy Wall Street Website by the organizers
The American Dream has been stolen from the world. Workers are told that they aren't allowed health care, shelter, food. Students are told that they aren't allowed jobs, and that they will be in debt for the rest of their lives, unable to declare bankruptcy. The 1% has destroyed this nation and its values through their greed. The 1% has stolen this world. We will not allow this to occur.
CNN: Wall Street protests grow after unions' endorsement
Some carried placards and shouted slogans denouncing corporate excess, while others said they were "fed up" with high unemployment and a lack of economic opportunity. Still others said they had simply been waiting for a moment to express their voice and kick-start a conversation about inequality.
Adbuster's: Occupy Wall Street