By: GO LOCAL Staff
Nov. 1, 2010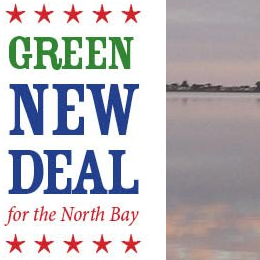 After a year and a half of public hearings, research and deliberations, a report from the Commission on a Green New Deal for the North Bay is calling for major changes in policies on the environment, healthcare and commerce. The report from the independent commission -- "Vital Change: Reconsidering Water, Food, Conservation, Healthcare and Commerce" -- focuses on potential for transforming Marin and Sonoma counties "into a more resilient region guided by principles of environmental sustainability, economic equity and social justice."
Juliane Poirier of the North Bay Bohemian makes refreshing observations about the report: "First, those of us (painfully) familiar with committee reports will be stunned to find that this 44-page write-up by the Commission on a Green New Deal for the North Bay is—drum roll, please—thoughtfully transparent and pleasurable to read. Yes, that's what I said. Parts are even fun to read. The radical part here is that this succinct, clearly written report is accessible to everyone." To read her story about the report, click here.

As part of groundwork for the report, released on October 14, the Green New Deal commission held more than a dozen public forums and hearings in urban, suburban and rural areas across the North Bay. The commission includes five members from Marin County and five from Sonoma County. From Autumn 2009 through Spring 2010, the Green New Deal commissioners heard expert testimony on such issues as food, housing, water, energy, health care and social equity. GoLocal co-founder Derek Huntington contributed on the the topic of Commerce, Governance and Taxes.

Among the report's findings, the GoLocal Co-op and the GoLocal Rewards Card are recommended:
• "It is more difficult to go it alone. Fortunately there are increasing opportunities for businesses and cooperatives to band together to create local strength. Firms should consider creating or joining a local business alliance such as the Sonoma County GoLocal Coop or other BALLE networks and using this connectivity to promote local purchasing, fight chains, solve problems, secure credit, and learn new skills. Enterprises can also join existing producers' cooperatives or other kinds of industry-specific affinity groups that collectively purchase, process, advertise, and lobby for local members."

• "In addition, local firms should band together to create or promote instruments which foster local purchasing such as local credit cards, debit cards, loyalty cards, and gift cards. The Sonoma County GoLocal Coop has a Reward Card, for instance, that offers customers benefits when they shop at member businesses."

Read the full report on the Green New Deal for the North Bay website here. Green New Deal for the North Bay is a project of MarinLink in San Rafael.