Is a Groupon Deal Right for Your Business? Some Analysis and Three "How-to" Videos to Help You Make a Decision
By: Terry Garrett
June 30, 2011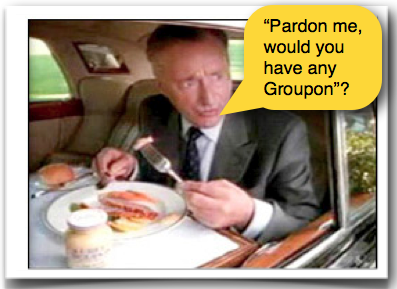 What's a two-sided market?
GoLocal connects people—residents with local businesses and business-to-business. And we want everyone to support local non-profits. We create a healthier local economy through making these connections and getting folks to support local businesses.
Groupon, LivingSocial, newspapers and magazines, radio and TV and commercial websites and search engines are also trying to make connections in the form of advertisements and special offers. In the case of traditional media, they offer news and entertainment content to make your advertising browsing more comfortable.
It's called a two-sided market. A business medium coordinates demand and supply for two sets of customers who each want something related directly or indirectly to the other. Advertising is the most common method.
Up until the past decade, traditional media companies made massive profits. Digital media, first web and now mobile, crashed the party. Literally. It's a mad scramble to see who can engage both sets of customers and emerge a winner. Groupon's meteoric rise demonstrates the open field of experiments going on. Google and Facebook are the new advertising companies. Even though you may think of them as search and social connection companies respectively, they rake in billions of dollars trying to get you to buy stuff. Groupon wants to join that club.
Groupon isn't for every kind of business, or even most kinds of businesses.
The Deal
Let's look at an example of a deal reported by one of our restaurant members. I've modified some of the numbers.
Offer to Groupon subscribers
Somebody's Restaurant
Worth $18
You Pay $9
Discount 50%, Save $9
Groupon will sell an agreed upon number.
From the restaurant's perspective:
Groupon collects $9 from the consumer and deducts credit charges and 50% for their take leaving the restaurant with $4.32.
The cost of food for $18 value is about 30% or $5.40, which means the restaurant is losing ($1.08) on each $18 worth of food served.
That amounts to a ($270) loss at the start—just on food costs, in addition to the loss from the difference of the discount price to the regular price, which would normally cover other operating costs like rent, cooks and servers.
See video Part 1 to learn how this one never works out well for the merchant.