Is a Groupon Deal Right for Your Business? Some Analysis and Three "How-to" Videos to Help You Make a Decision
By: Terry Garrett
June 30, 2011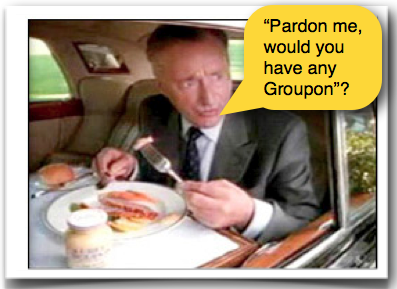 Below are some opportunities that a restaurant owner might rationalize to accept this deal. My thoughts follow. And following this are 3 videos that explain how it works.
Rationale #1
"Most of the customers will probably spend extra on things like drinks and side dishes."
Thought #1
According to a Rice University study surveying 150 merchant participants in Groupon, between 25-50% of the customers purchased something in addition to the value of the coupon redemption. Knowing how much you need in additional sales is key to making this work favorably for you. Groupon claims the additional purchasing is much higher. Tracking is woefully missing.
Rationale #2
"Since my average meal is $12 for lunch and $16 for dinner (including a beverage), most likely the primary diner will bring at least one guest. That will increase the likelihood that I will make additional sales and it will double the number of people who sample my restaurant."
Thought #2
This is the corollary to the #1 rationale, and probably a good way to structure the offer. Either the full value won't be used, which reduces the restaurants cost of food provided, or the diner will bring a companion. Since the amount is barely enough to cover the two of them, they will likely buy more than the discount value.
Rationale #3
"I'll expose my restaurant to many new potential customers who may return and pay regular price."
Thought #3
This is the big hope, right? Every business, in order to grow at least to capacity, needs existing customers to be loyal and return, and it needs new customers to increase its sales to reach capacity and to cover lost customers. A one-time shot based on low price may not be the best way to encourage folks to return, pay full price and become a regular customer. Again, in the Rice study between 13%—31% of the coupon carrying customers did return a second time, but the tracking method leaves a lot to be desired.