Is a Groupon Deal Right for Your Business? Some Analysis and Three "How-to" Videos to Help You Make a Decision
By: Terry Garrett
June 30, 2011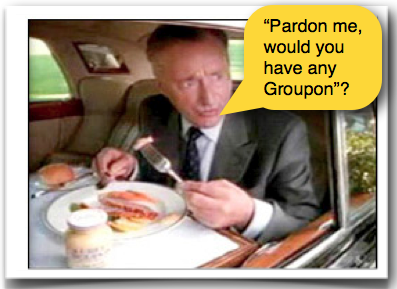 Rationale #4
"Hopefully the discount customers will come at times when I'm below capacity. Lately things have been a bit slow and we have open tables. If I can cover the cost of my food, and serve enough meals to avoid spoilage, then I'm okay."
Thought #4
This is a primary qualifier for deciding to work with Groupon. If your business isn't operating under capacity most of the time, then you don't need Groupon. If you are under capacity, then it can help boost your numbers and it probably has several benefits. A bustling restaurant is more appealing to a some folks; it implies that it's popular and must therefore be a good place to dine. Your staff will likely be more productive working at capacity or near capacity. Of course the downside is that you're selling below costs in order to create this condition, and that isn't sustainable. This means that there is a sweet spot in the range for ideal capacity that qualifies you to try Groupon.
Rationale #5
"Some people who buy the coupons won't ever redeem them even though they paid for them." (This is referred to as breakage.)
Thought #5
This is true and will be conditioned by the length of time before expiration of the offer and the value of the purchase. On average, it's about 15% breakage, meaning 85% do redeem.
Rationale #6
"Lots of people will see my name and offer even if they don't buy it."
Thought #6
True.
3 How-To Videos to Help You Make a Decision on the next page.