By: GO LOCAL Staff
July 2, 2010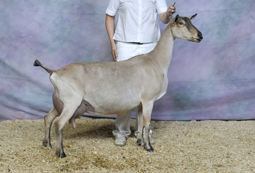 Each year, dairy goat breeders from across the country bring the very finest animals from their show herds to be judged at the American Dairy Goat Association (ADGA) National Show, held this year in Louisville, Kentucky. Our farm's focused breeding program has produced National Champions over the past three decades. However, this years National Show, just concluded, brought unprecedented success with National Champion honors in three of the six dairy goat breeds. The judges have awarded these dairy animals to be the finest representation of their particular breed. The 2010 Nubian National Champion is Redwood Hills 'Tarot Dahlia, the 2010 Saanen National Champion is Sartyr 'Clinton Tivoli'. And our gorgeous doe 'Scarlett', shown below, was another supreme winner.
The show team begins road trip home… Owner Jennifer Bice, Farm Manager Scott Bice, Herd Manager Trinity Smith and handler Ben Rupchis are thoroughly and happily exhausted after all of the preparation and effort that goes into a National Show. Now on the long but carefully planned drive home across the country, these goats and our farm management crew will be given a well-deserved homecoming celebration as they return to Redwood Hill Farm in Sebastopol. We congratulate all of the breeders and dairy goat herds from across the nation for making this an unforgettable show, and we're honored to be included among the finest!
From award winning dairy goats, comes award winning yogurt, kefir and artisan cheeses.
See Redwood Hill Farm in the GoLocal directory.