May 26, 2013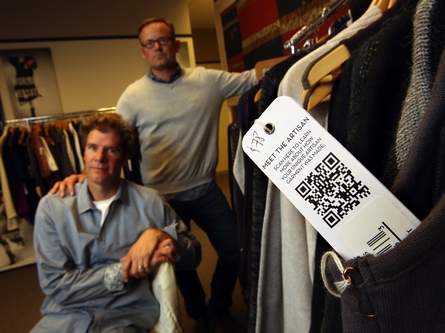 Santa Rosa company makes origin of clothing more transparent
American consumers often know very little about the people who make the clothes they wear every day.
But Pilco's story, told in a video interview, is one of a dozen such tales available to any shopper with a smartphone that comes across garments made by Indigenous Designs.
The Santa Rosa clothing company has developed the "Fair Trace Tool," a mobile phone application that consumers can use to learn where a garment was made, and what living conditions are like for the textile workers in that region. Knitters' stories are told through videos and photos, along with maps and data about the poverty level of a community.
"I just hope that people in some way are moved toward thinking more about how they choose their wardrobe," said Scott Leonard, CEO of Indigenous Designs.
Earlier this year, Indigenous embedded its price tags with QR codes, which can be scanned by a smartphone and direct shoppers to a website with information about the origin of the clothes. But last week, in the wake of the collapse of a garment factory in Bangladesh that killed hundreds of workers, Leonard and Indigenous co-founder Matt Reynolds offered to share their proprietary technology with other companies that are committed to the principles of fair trade.
Read the full story at Press Democrat.com
---
Indigenous Designs is a founding member of Sonoma County GO LOCAL. Scott Leonard is a current GO LOCAL board member.