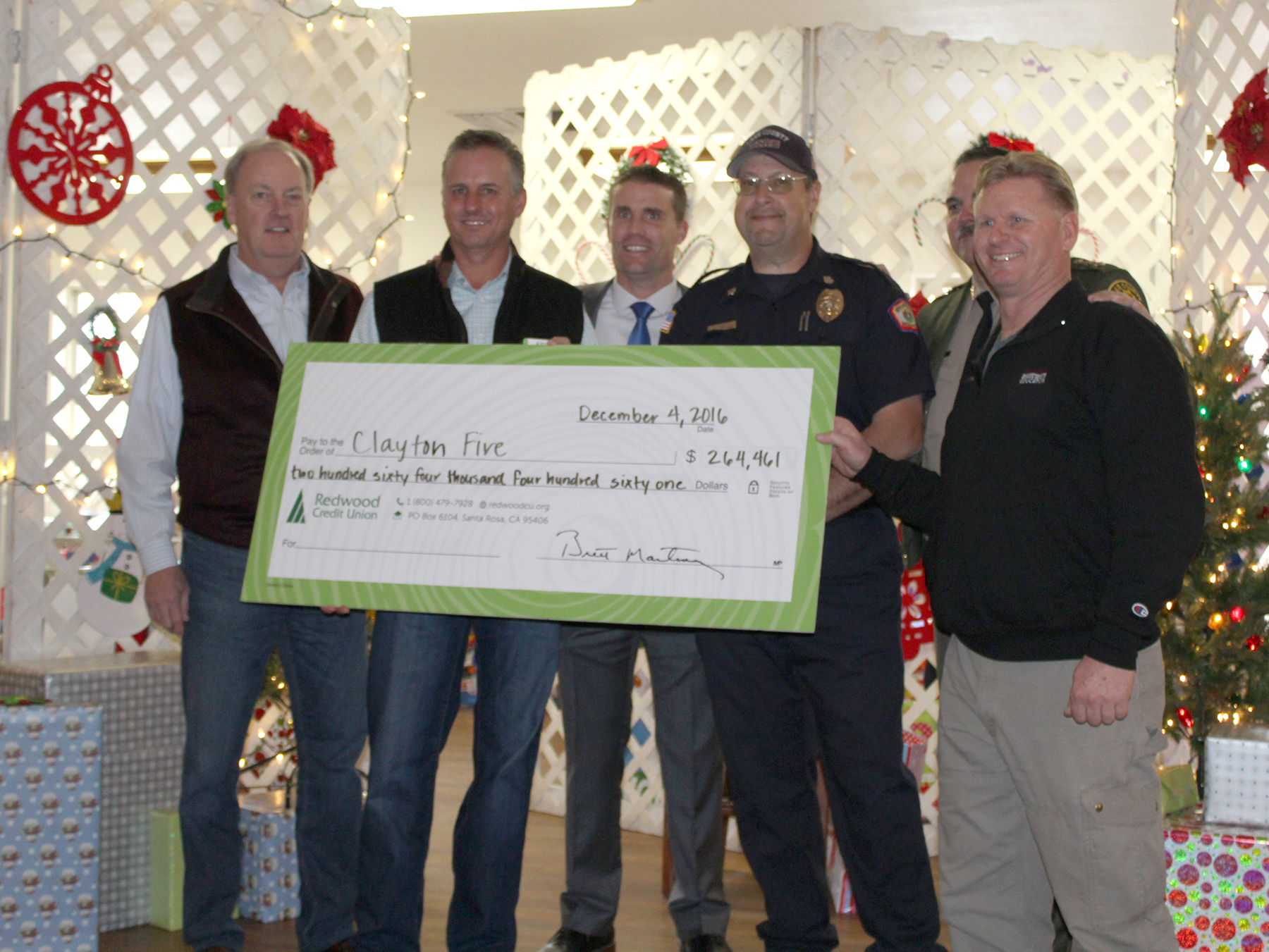 ---
Lower Lake, Calif. –Redwood Credit Union (RCU), in partnership with the Press Democrat and Senator Mike McGuire, helped the Lower Lake community celebrate the holidays with a pasta feed and holiday event on Sunday, December 4th. The event was sponsored by RCU's Lake County Fire Victims Fund (part of Redwood Credit Union Community Fund, Inc.), which raised nearly $265,000 dollars, thanks to the generous contributions of more than 700 donors, to assist victims of the Clayton Fire which devastated much of the Lower Lake community in August of this year.
The event featured a festive lunch at The Brick Hall in Lower Lake, over 200 local residents gathered for a free pasta and polenta meal provided by Sonoma County's Pasta King, Art Ibleto. Santa Claus brought gifts—including toys, books, and pajamas—for local children impacted by the fires, and the community enjoyed raffle drawings for gift cards from local businesses, Christmas trees, wreaths, and poinsettias.
"This event wouldn't have been possible without the generosity of the all donors to RCU's Lake County Fire Victims Fund," said Brett Martinez. "It was a wonderful opportunity to help bring holiday cheer to the Lower Lake community as they continue their recovery from the Clayton fire."
Nearly all of the funds raised have been distributed to victims of the fire, including individual grants of up to $1,000 to residents who lost their homes; $20,000 in business recovery grants; and $20,000 in gift cards for students, teachers and staff at Lower Lake schools to replace school clothes and supplies. Martinez and McGuire announcedSunday that additional funds would be provided to the Lake County Fire Protection District to replace and update protective wildfire gear for the firefighters.
Last year, the Lake County Fire Victims Relief Fund raised and distributed more than $2.6 million from over 12,000 donors to provide relief and support to Lake County's Middletown and surrounding areas in response to a series of summer fires, including the devastating 76,000-acre Valley Fire in September 2015.
---
About Redwood Credit Union
Founded in 1950, Redwood Credit Union is a full-service financial institution providing personal and business banking to consumers and businesses in the North Bay and San Francisco. RCU offers complete financial services including checking and savings accounts, auto and home loans, credit cards, online and mobile banking, business services, commercial and SBA lending, wealth management and investment services, and more. The Credit Union also offers insurance and discount auto sales through their wholly-owned subsidiary. RCU currently has $3 billion in assets and serves over 273,000 Members with 17 full-service branches from San Francisco to Ukiah, more than 30,000 fee-free network ATMs nationwide and convenient, free online and mobile banking. For more information, call 1 (800) 479-7928, visit www.redwoodcu.org, or follow RCU on Facebook at facebook.com/redwoodcu and Twitter at @Redwoodcu for news and updates.