By: Janeen Murray
Oct. 18, 2010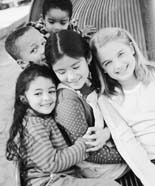 Josh and Regina Silvers of Syrah Bistro and Jackson's Bar and Oven spearhead effort to renovate YWCA Sonoma County's "A Special Place" Preschool. Regina notes, "It started out that we were looking for a discount on some appliances, but when we realized the amazing work these people do, we started making phone calls to some awesome businesses around town. We are now in the process of not only building them a new kitchen but renovating the entire school -- Thanks to the support of some awesome local businesses!"

This school provides counseling, a safe place to learn and nutritious meals for kids (about 30 of them) that are witness and victims of domestic violence. "They are all about my son Jackson's age, so it breaks my heart that some of them are so scared that a loud noise will send them running for the door! No child should have that kind of fear! They are breaking the cycle of violence for these kids and their mothers," adds Regina.

Thanks to the help and support of Ray D'Argenzio of D'Argenzio Wines (who used to make cabinets before making great wine) they have new cabinets and design for the new kitchen. Mike Montague of TeeVax has also been amazing and has got them a double oven, dishwasher and refrigerator.

Neva Freeman of Neva B Designs (who designed Jackson's Bar and Oven) is now donating her time again (she and her design group renovated the property beautifully 18 years ago) is also involved to restore some of that glory back after all these years.

Syrah Bistro and Jackson's Bar and Oven is doing a raffle; the tickets are only $5 and the proceeds will help finish this project. The winner gets dinner for 4 at Jackson (a $150 value) with a special pairing from D'Argenzio Winery, and the ability to make a reservation at Jackson's (which they never ordinarily take). The drawing will take place the first week of November.

Tickets are available at Syrah Bistro and Jackson's Bar and Oven, and at D'Argenzio Winery on Cleveland Avenue in Santa Rosa. If you buy at ticket at D'Argenzio Winery, they'll throw in a complimentary wine tasting!

Regina concludes, "Please contact me or any of the people involved if you have any questions. I hope you can help us rally some support for this community project. It is an awesome project and I would rather build a school than a jail. Let's Break the Cycle of Violence! The Raffle is on until the end of the month but donations can be made for the YWCA any time."