Special Breakfast Event to Raise Money for Valley Fire Fund
By: Vicki deArmon
Oct. 15, 2015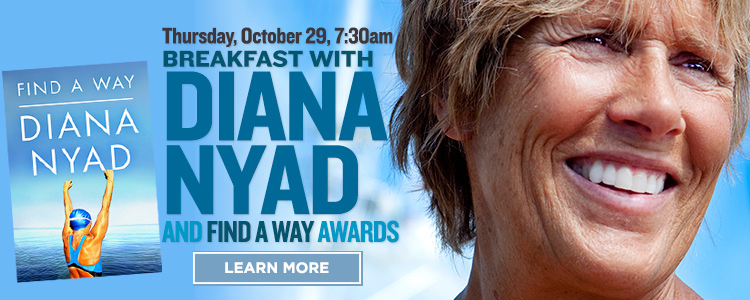 Hello Fellow GO LOCAL Member,
As a fellow GO LOCAL member, we're writing because Copperfield's Books would really like GO LOCAL member participation in this big event we are doing with Diana Nyad. We couldn't be more thrilled to be bringing Diana to Santa Rosa for a special event breakfast on Thursday, October 29. We're the only bookstore event in the Bay Area. Diana's the woman who at age 64 swam from Cuba to Florida, 110 miles over 53 hours in shark and jellyfish infested waters. Her perseverance and example have led her to international fame. She's an amazing motivational speaker (you can hear her on TEDx).
We are offering tables to businesses and organizations who have staff or customers who would appreciate the messages that are part of her story, messages that inspire us to "find a way", "never give up," and understand that "it takes a team" to accomplish great things. I'm thinking some of your team members (staff, managers, even customers) would get a lot out of this. It's truly motivational, and in the best way.
The event also will serve as fundraiser for victims of the Valley Fire and Copperfield's Books will honor members of the community who exemplify Diana Nyad's perseverance and success in achieving a worthy goal over a lifetime with the Find A Way awards honoring local heroes.
We'd love you to participate! Can you take a table? This fulfills two purposes. It allows you to offer people a meaningful event and inspiration AND to contribute to the Valley Fire Fund.
Tables may be purchased for $1000 with proceeds going to the account established at Redwood Credit Union for this purpose. These tables will have priority seating and signing at the event. In addition, Copperfield's will honor this level of donor along with the winners of the Find A Way awards in ads in the Bohemian and Press Democrat.
(Of course individuals are invited to attend as well at a price of $55 ticket includes admission to the event, a copy of Diana Nyad's book Find A Way ($26.95) and a continental-style breakfast.)
I'd so love to see local organizations represented there with a table. Appreciate your consideration very much and I look forward to hearing from you. Thank you. :)
Vicki DeArmon, 707-776-7284 (direct)
Marketing & Events Director
Copperfield's Books Headquarters, 139 Edman Way Sebastopol, CA 95472
Seven stores in San Francisco's North Bay
MORE INFO ON FIND A WAY
Nominees are sought who exemplify Diana Nyad's perseverance and success in achieving a worthy goal over a lifetime. This is a one-time award for residents of Sonoma, Marin, Napa, and Lake counties. Nominations must be received by 5 pm on Tuesday, October 20, 2015. The nomination form is available at
copperfieldsbooks.com
. Winners announced at the breakfast.