Capturing and using rainwater has many benefits and it's easier than you think!
By: Jesse Froehlich
March 20, 2014
BlueBarrel just made rainwater harvesting easier with the long awaited launch of our Do-it-Yourself (DIY) RainKit™.
That's right - you can now build your very own BlueBarrel System™ using recycled barrels. We match you with your nearest source of safe and compatible barrels by zip code search. All of the parts and fittings ship to your door in the DIY RainKit!

With the RainKit, you will build a system that's customized to your needs and meets code standards. You'll have our support along the way with full color photo-illustrated instructions and FREE access to our complete How-To Video Series.
How do you get started? It's as easy as 1, 2, 3:


Here's a note from a customer who sent us a picture of his perfectly installed BlueBarrel System™ a mere three days after ordering his RainKit™ - we were so impressed!:

"My new BlueBarrel System is working great! I had thought a long time ago about trying to do something like this on my own, and BlueBarrel's RainKit made it easy. The full-color installation instructions are excellent and easy to follow. I installed my system quickly and successfully on my first try. I only wish I had more room around my house for a larger system!"
-Kent, Healdsburg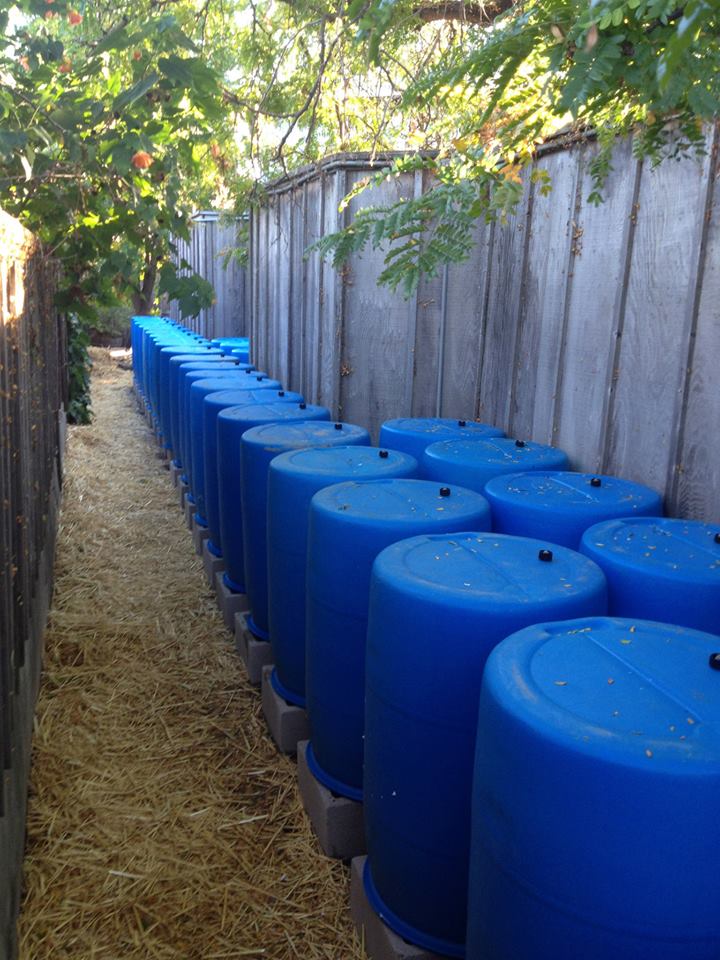 See our
photo gallery
to gain some inspiration with pictures of Kent's BlueBarrel System and many others!
And then start customizing your own RainKit!
Whether you're doing 2 barrels or 42 (our largest to date!) your BlueBarel DIY RainKit™ comes complete with everything you need: a downspoutdiverter that handles inflow AND overflow, barrel caps, all necessary fittings and adapters, isolation valves, vents, a no-kink spigot, non-toxic food-grade glue and sealant, code-required screening and labeling, easy-to-follow instructions, an unintimidating M & O manual, and FREE access out our Complete How-To Video Series.
You can order safe and compatible recycled barrels through our website if you don't have them already, and choose optional add-ons such as a streamlined drip irrigation connection!