Aug. 10, 2017
If holiday sales are important to your business, you'll do some promotion.
When you use our GO LOCAL shared branding, you and everyone else benefits to a much greater degree. It's common sense, right?
Media impressions (the number of times shoppers see a message) climb from a few thousand impressions to millions when we work together with shared holiday branding. That equals successful results.
---
WHAT to do? Participate in GO LOCAL's Holiday Campaign!
---
GO LOCAL HOLIDAY MARKETING PACKAGE
(NO LONGER AVAILABLE as of 10/1/18)
The 2018 Holiday Marketing Package is customizable and contains these elements for GO LOCAL members to choose from.
Outdoor Digital Board - along 101 in Rohnert Park from November 6 through December 30
Made Local Magazine - quarter page ads in special holiday section
Targeted Email Blasts - to GO LOCAL consumers or businesses
Facebook/Instagram Ad Campaigns
Radio spots - exclusive or shared with other members
All-In-One Social Media Production Package with Videography and Photography
CLICK HERE TO DOWNLOAD THE PDF HOLIDAY MEDIA PACKAGE FLYER SHOWN TO THE RIGHT.
---
HOLIDAY MARKETING KIT FOR MEMBER DOWNLOAD

(Contains all 9 holiday images shown below.)
---
Facebook Cover image for your Facebook Home Page
It's the correct size and ready to upload to Facebook.
Make a huge impact by placing this cover image on your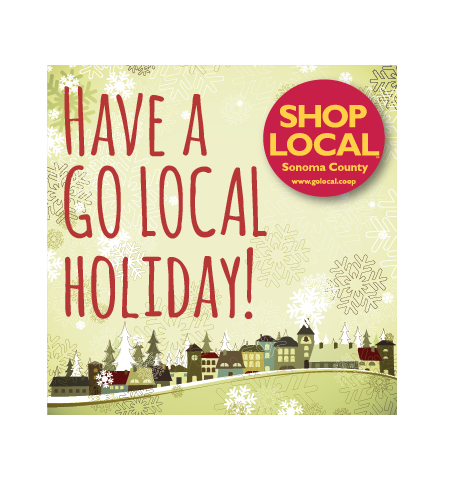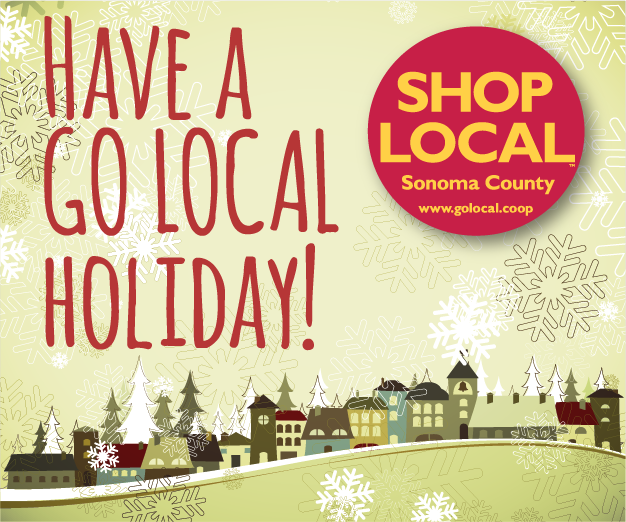 Facebook page. Imagine all GO LOCAL member Facebook pages with this image—it will make an incredible impact.
Badges on your website, in email newsletters and in email signatures
300 x 250 banner sizes for websites. Small png for email newsletters and signatures.
Facebook icon for Facebook and other small digital spaces...
200 x 200 size, perfect for a holiday FB icon.
SIX More Holiday Images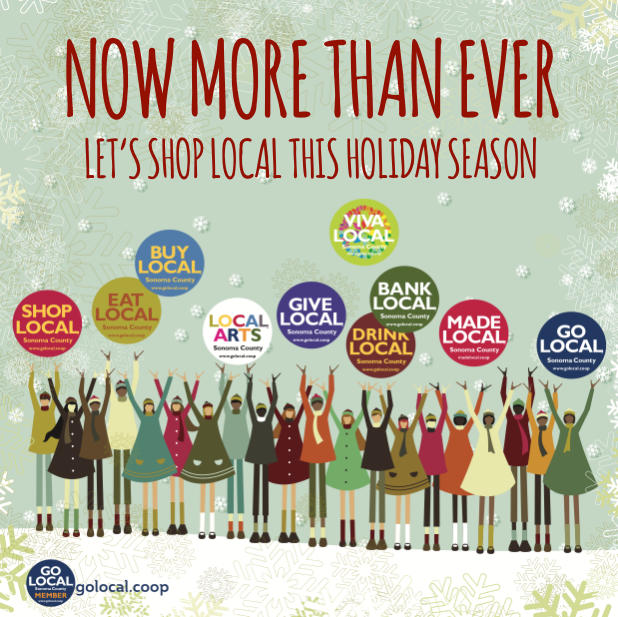 ---
PLAN NOW.
Printed material
If you're printing direct mail, menus, rack cards, flyers, etc. use the logos provided. Send them to your printer early.
---
Advertising
Place the themed logo in all your print ads in newspapers and magazines.
---
Use these slogans, taglines and snippets:
Now more than ever, let's keep it local this holiday season!
Take a break from the big boxes and online - Have a GO LOCAL Holiday by visiting GO LOCAL businesses this season!
'Tis the Reason for the Season - Have a GO LOCAL Holiday - Keep it local this holiday!
Locally Owned Businesses: Create more local jobs • Give more to local non-profits • Know our local tastes and preferences • Keep more money in the local community
Catch the GO LOCAL Holiday Spirit by supporting your locally owned businesses!
Celebrate your Local Independents
Gonna find out who's naughty or nice…buying local is nice.

HO HO HO Local! And have a GO LOCAL Holiday.

Santa Claus is coming to town, and he's shopping local.

Home for the holidays...so let's shop local.

By golly, have a holly jolly locally-inspired holiday!

Baby, it's cold outside! Let's warm it up with a GO LOCAL holiday.

On the first day of Christmas my true love gave to me...a GO LOCAL shopping spree!

We're happy tonight, walking in GO LOCAL wonderland.
Use these stories/links for your posts and newsletters:
Use this video:
Share or embed from this link: https://youtu.be/3he1UOULCyE