May 6, 2017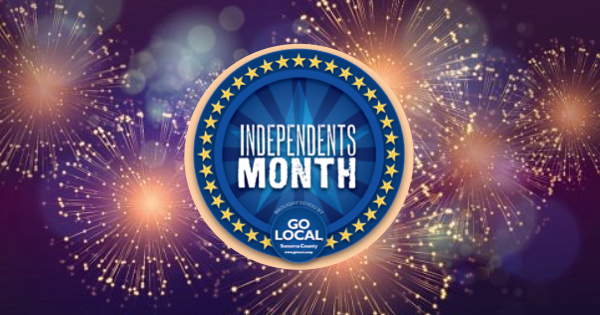 July is Independents Month.
Join with communities across the nation and celebrate the freedoms and opportunities independent businesses provide. Here in Sonoma County, we're asking all residents and visitors to support our independent businesses throughout July.
THIS BRANDING AND MEDIA OPPORTUNITY IS FOR MEMBERS ONLY.
Now in its fifth year for Independents Month 2017, GO LOCAL offers two ways for members to participate:
A special media package to boost your reach in July. A multimedia presence with other members around the GO LOCAL brand concentrates the promotional value for each participant (see bottom of page)
Marketing assets free for all members to use, designed by Zack Darling Creative Associates (ZDCA) to let their red, white and blue really fly.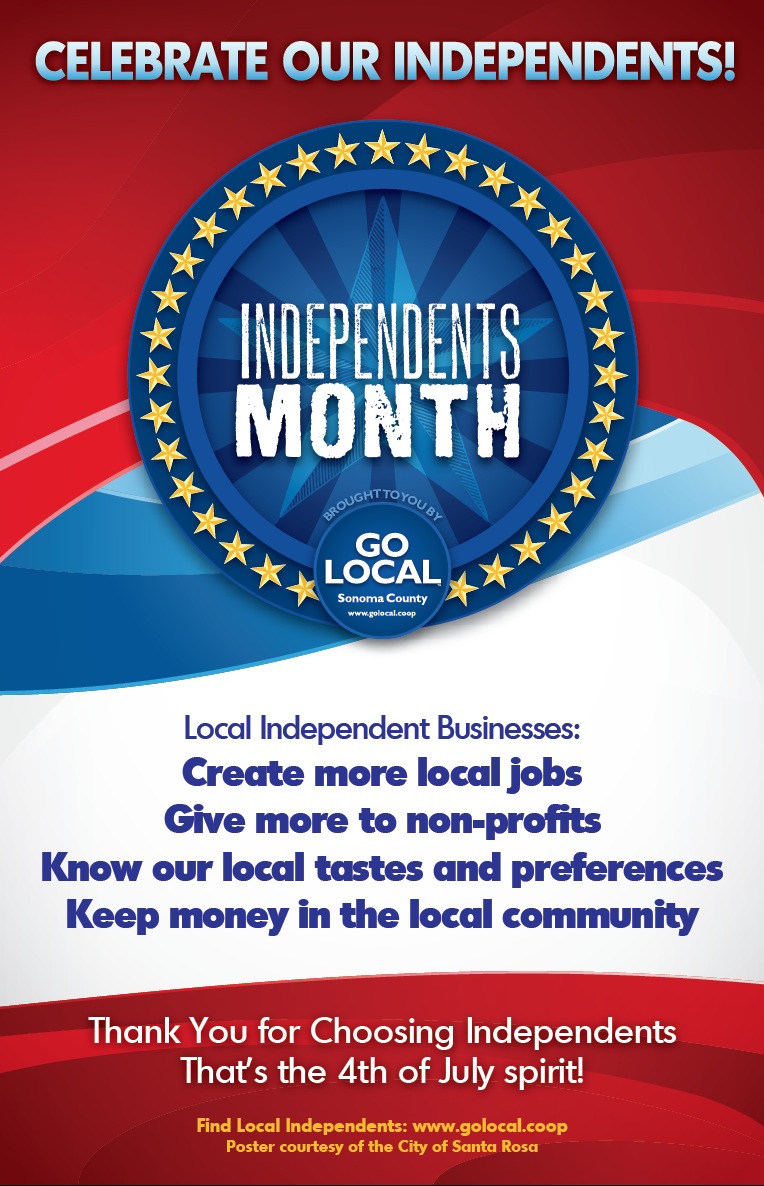 ---
Free Member Branding Materials
New 2017 Marketing Kit for Download
Download the Independents Month digital assets bundle (all-in-one zipped folder) by clicking here.
Place the logo in all your digital marketing.
---
Logos, badges, FB post and cover images
Place on your website, in email newsletters and in email signatures
300 x 250 banner sizes for websites or blogs.
Small png for email newsletters and signatures.
Facebook Cover Image - use it on your page in July to show your spirit.
It's already the right size and ready to upload to Facebook.
Make a huge impact by placing this cover image on your Facebook page. Imagine all GO LOCAL member Facebook pages with this image—it will make an incredible impact.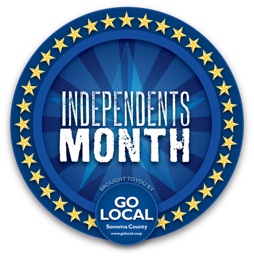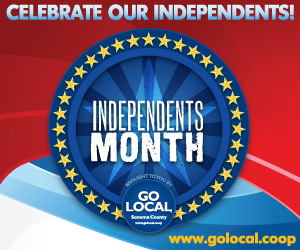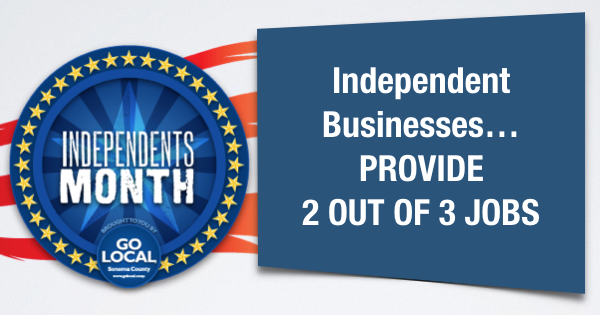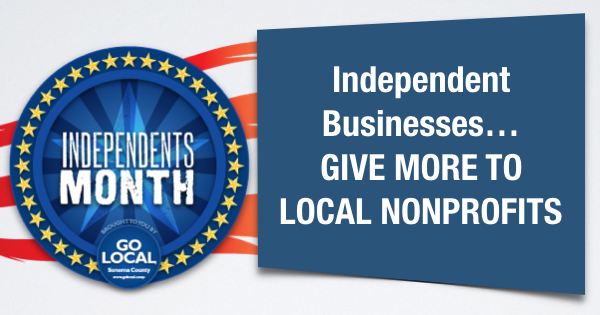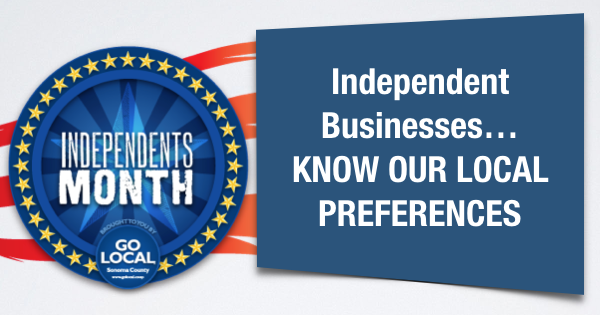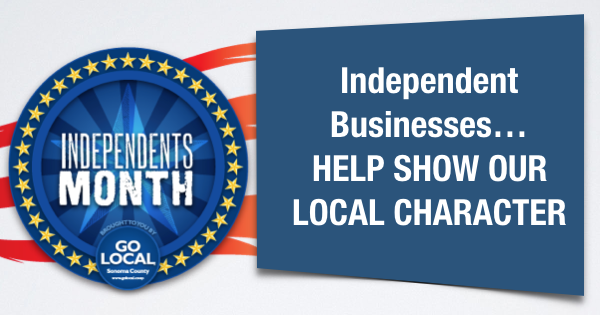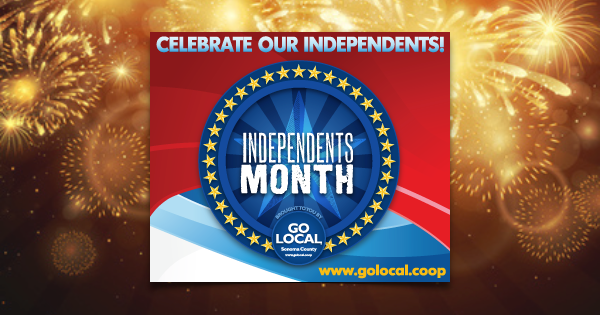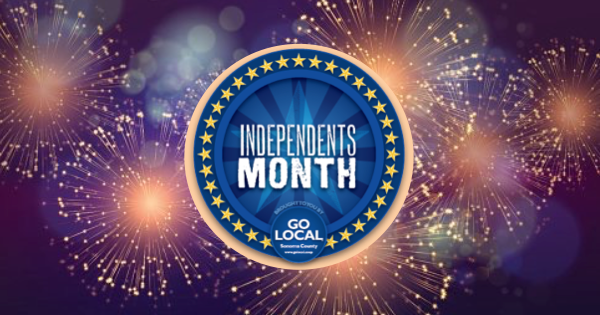 ---
Slogans, taglines and snippets to use freely
Local Independent Businesses: Create more local jobs • Give more to local non-profits • Know our local tastes and preferences • Keep more money in the local community
Catch the 4th of July Spirit by supporting your local Independents.
Celebrate your Local Independents!
Try out a new Independent Business in July, and help them sparkle and shine!
And use these stories/links for your posts and newsletters:
---
Share a video - choose from two versions of the same message.
Share it with this link: https://youtu.be/e8D_sK5ZyHw
GO LOCAL MEDIA OPPORTUNITY FOR JULY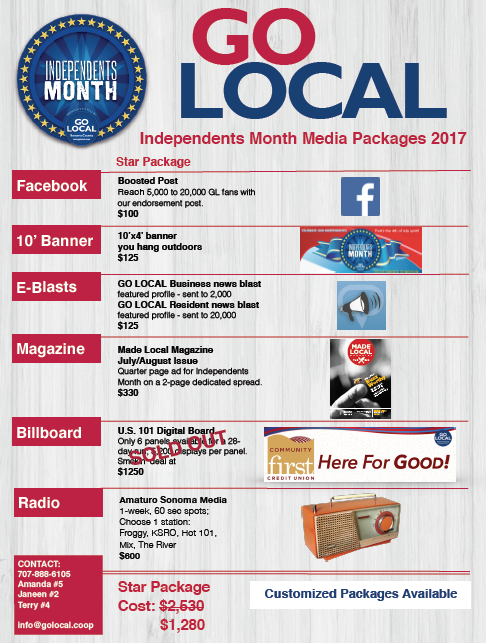 Download the flyer to the right as a PDF here.
Sign up for our customizable media package - includes digital, print, radio, outdoor banners. We price all media competitvely with our co-op marketing advantage.
Contact GO LOCAL at 888-6105 for more info:
Amanda ext.5 (a.scruggs@golocal.coop)
Janeen ext.2 (j.murray@golocal.coop)
Terry ext.4 (t.garrett@golocal.coop)