Dec. 28, 2015
GO LOCAL Business Member Benefits
---
SHARED BRANDING AND NETWORK MARKETING
1. License to use GO LOCAL shared branding (logos) throughout marketing and advertising channels. $10 million commercial media value established in Sonoma County. The number of times GO LOCAL logos and messages are viewed adds up to over 1.25 million impressions daily.
---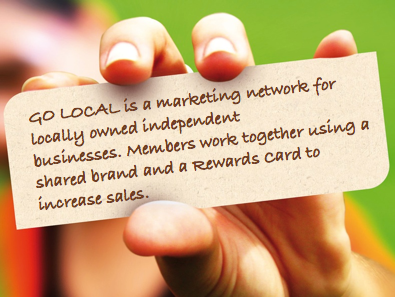 2. Access facts, studies and graphics relating to choosing Local First in Sonoma County to use in your marketing.
3. Business listing at golocal.coop online and mobile with overview, photos, videos, Facebook feed, map, recommendations, and Reward offer if applicable.
4. Your biz logo displayed as a featured member on every page of golocal.coop, for listings with the most # of recommendations.
5. Send us news, profiles, and other related content and get published as articles on golocal.coop and promoted via social media channels.
6. Stay on top of GO LOCAL news, events and opportunities with monthly e-newsletter.
7. Get promoted and engage in GO LOCAL's social media channels: Facebook, Twitter, LinkedIn, Instagram.
8. Free GO LOCAL training sessions for staff to understand membership and communicate effectively with customers (upon request)
9. Receive and distribute copies of the GO LOCAL Pocket Guide, over 10,000 copies annually (upon request).
10. Submit your events to be listed on the GO LOCAL events pages online, and member events receive extra promotion via social media channels.
11. Attend, host, or be a featured business at monthly Refer Local meetings. Attend "How to Leverage Your GO LOCAL Membership" meetings.
---
ADVERTISING
12. Special members-only pricing in traditional and new media opportunities throughout year - print, radio, TV, and other. Buy advertising that is less expensive in a shared branding format with other members—strength in numbers!
---
REWARDS CARD
13. Offer a "show the card" reward, or offer a Reward to cardholders that's electronically processed at your POS. Installation, training, cards, support, and valuable marketing data on your rewards sales all come free with membership.
14. Upon request, free GO LOCAL Rewards Cards for all staff.
---
Members can download the Member Tools Checklist here to help take advantage of these benefits.