Reach Sonoma County commuters with this special GO LOCAL co-op ad buy.
Nov. 12, 2018
Get seen on the really gigantic board that rotates screen panels on Highway 101 in Rohnert Park.
We split one Veale Outdoor panel into 6 individual GO LOCAL panels for more affordable access to this high-impression ad buy.
These boards are available through GO LOCAL in March, May, June, July, September, November, & December.
---
PARTICIPANTS GET: 5133 panels in 28 days; 183 panels daily; each panel shown every 7.2 minutes. Avg total impressions 84,000.
TOTAL RUN-TIME: board runs 10 ads/minute, 6 sec. duration, 22 hrs daily 5am-3am.
---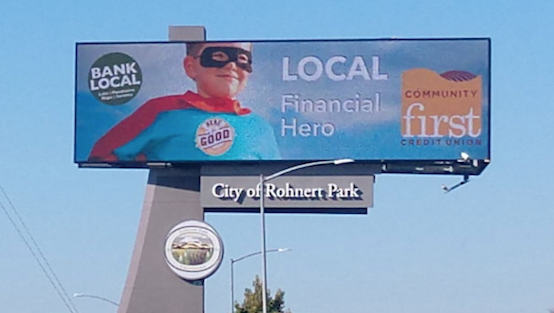 GO LOCAL Outdoor digital board panels will be available these dates in 2019:
"March" 3/4/19 - 3/31/19 (Northbound)
"May" 4/29/19 - 5/26/19 (Northbound)
"June" 6/3/19 - 6/30/19 (Northbound)
"July" 7/8/19 - 8/4/19 (Southbound)
"September" 9/9/19 - 10/6/19 (Northbound)
"November" 11/4/19 - 12/1/19 (Southbound)
"December" 12/2/19 - 12/29/19 (both NB and SB available)
GO LOCAL member cost:
$1,300 per 28-day digital board run
---
Ad design is covered in the cost, or members can supply a finished ad if preferred.
Specs are 704px x 200px .jpg file.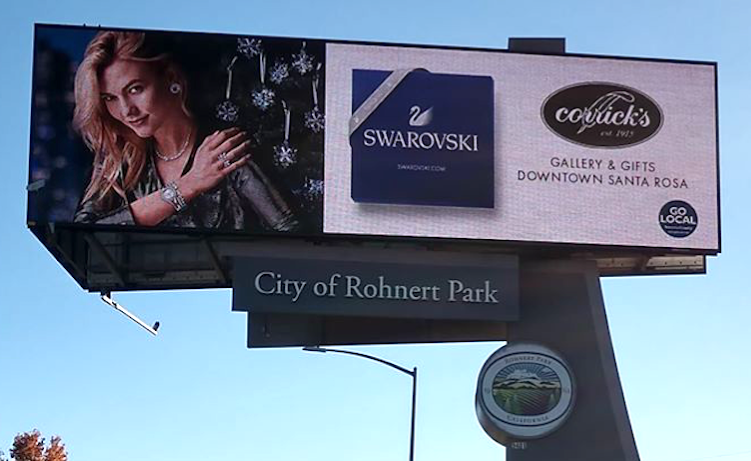 We recommend that the ads be:
*brand/image focused
*spacious more than busy
*have minimal words and contact info for the people speeding by.