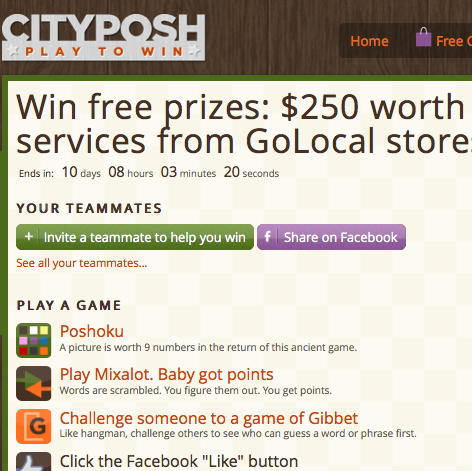 ---
Want to increase the number of potential customers who know about your business?
If you answered 'yes', you and GoLocal can help create major buzz for your business...
The Newest Social Media Tool for GoLocal Members
We think you're really going to love this: GoLocal is working with a development team that has hit on a fabulous strategy of using branded games to engage existing and potential customers. Playing games is a fun and rewarding way to introduce folks to GoLocal member businesses. GoLocal is starting today with a game of our own to give our members a taste.
How it Works
Players score points by playing games and doing simple social media actions. They earn big points for liking your Facebook page, tweeting the contest to others, or checking into your business location. The games are familiar to most people (anagrams, hangman, mix and match and others), which makes it easier for players to engage, and the games include words and images of participating businesses. There are around 8 games per contest for players to choose from.
Best of all, we take care of creating the games and running the raffle drawings - participating businesses simply provide words and images for the games, and the prizes for the winners.
Let the Games Begin
Contests run for a week, players earn points and then are entered into multiple raffles. There can be raffle prizes for the top ten highest scorers and also smaller raffle prizes open to all players.
Get Valuable Marketing Data
When the contest is finished, our partners will provide a report to show participating businesses their results, like the number of new Facebook likes, new Twitter followers, web traffic, contestant numbers and engagement time.
Try the GoLocal Contest 8/22-8/28 and Test it out!
Simply register a user account and start playing. Play for a chance to win one of these prizes, then contact us if you'd like to start a contest for YOUR business! And feel free to shoot us an e-mail about this first contest if you have feedback to share with us after playing.
There are four raffle drawings for the top ten highest scorers:
*Two $50 gift cards from Pacific Markets
*Two $30 Localistas Unite! 100% organic cotton T-shirts
And there are four raffle drawings open to all players, no matter your score:
*Four $30 Localistas Unite! 100% organic cotton T-shirts