By: GO LOCAL Staff
March 5, 2010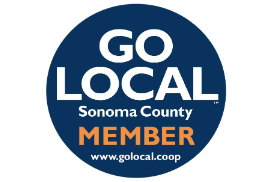 Non-profit and community organizations receive tremendous benefits by participating with residents and locally owned businesses. Several studies have indicated that local businesses contribute a higher percentage of their income to local non-profits than do companies with absentee owners.
Making shift happen by joining GoLocal has several rewards.
Through your directory listing, our events calendar and stories about you on our website, your organization's message reaches residents and business owners in Sonoma County who really value our community and are working with you to improve our quality of life.
By participating in our members only networking events, you're likely to find enthusiastic partners to help you expand existing or new programs.
Through our member referral program and GoLocal Rewards Card, you can receive additional funding and other in-kind resources to help you to be more successful.
How Our $10 Million Shared Brand Gets Results
GO LOCAL's marketing goal is to shift purchasing of goods and services from non-local to local businesses. Our shared brand is effective when it accomplishes that. Every business owner and organization knows that in order to attract customers and supporters one has to reach new folks. Our shared brand does that.
The greater our brand value, the greater our influence to shift behavior. Our shared brand message is very positive for the community on many levels. When people act on our message, we can greatly improve our local economy. The more times and the more often they are exposed to this positive message over time, the more likely they are to act on it.
Our diversity of business and organization members matters. It creates more opportunities to reach more people more often.
It's Easy to Join GO LOCAL
To become a member of GO LOCAL, an organization must meet the following criteria:
Must be located in Sonoma County
Must be a non-profit qualified organization or a municipal or county government body or agency.
Dues
GoLocal organization membership dues are annual and expire upon the anniversary of the date an organization joins. Annual dues are $150.
Download the paper application to pay by check, or click below to pay online.