Feb. 2, 2014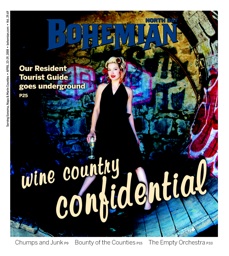 Special Offer for GoLocal Members Only
Contract for 12 ads based on 26x ad pricing, color inclusive.
Custom ad schedule for advertisers preferred dates.
Example for 1/6 page size: Ad size: 4.9375" wide X 3.5625" high
For New Bohemian Advertisers/Go Local Members package, contact for pricing.
Contact information
Lisa Santos
Advertising Director
North Bay Bohemian
o: 707-527-1200 x.205
c: 707-477-8014
f: 707-527-1288
www.bohemian.com
847 Fifth St.
Santa Rosa, CA 95404
---
Downloads for Bohemian information:
Special Issue Calendar and Ad Planner
---
About the Bohemian
Based in the beautiful Sonoma County wine country, the North Bay Bohemian is steeped in tradition but is by no means stodgy. Its name pays homage to the literary movement that figured prominently in cultural development north of the Golden Gate in the years following the California gold rush
The journalists, poets and novelists loosely identified as bohemians preferred art, literature and political discourse to the aggressive material culture of their day. Successor movements with bohemian flavor, environmentalism, the Beats and hippies, the sexual revolution, California cuisine and cyberculture' were similarly catalyzed by their synergy with this important area.
Bohemian readers like to stay current with the area's culinary and wine culture, keep tabs on the music and art scenes and gain perspective on the changes transforming the area. No one embodies the North Bay spirit better than the Bohemian, a favorite of smart, independent-minded readers for more than two decades.