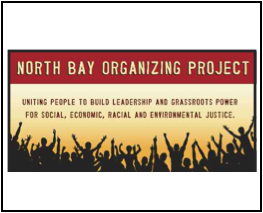 ---
The Press Democrat's Chris Coursey reports that on Saturday, Oct. 29, "at Santa Rosa High School ... more than 600 people gave up a gorgeous autumn afternoon to gather in the auditorium and declare themselves a part of the community that demands to be heard." The meeting, convened by the North Bay Organizing Project (NBOP), picked up where previous meetings in Roseland and at the Santa Rosa City Council chambers had left off, gathering broad consensus for action in areas perceived as central to the growth of a healthy, ethnically diverse community. The two main priorities, arrived at after a lengthy process of presentations and grassroots discussion, are "improving immigrant rights and increasing equity in transit, neighborhood and economic development."
"The big news – and make no mistake, this is big news – was the announcement that local law enforcement agencies have agreed to accept as valid identification the 'matricula consular' card issued by the Mexican government to Mexican citizens living in the United States.
"And, there's that second priority – increasing equity in transit, neighborhood and economic development. What sounds like a nebulous concept has taken a very concrete form. The group is advocating for the construction of a long-planned but as-yet-unfunded bicycle-pedestrian bridge over Highway 101.
"'We are a deeply divided community. Highway 101 separates us by race and class,' Michelle Dowling said to the cheering audience on Sunday. A member of the Santa Rosa Junior College Student Senate, she was one of several young people urging completion of the bridge as a 'social justice issue' in Santa Rosa."
(Read the whole article at http://www.pressdemocrat.com/article/20111022/ARTICLES/111029822.)
The GoLocal Cooperative congratulates the NBOP on its tenacious, productive work on behalf of our underserved communities whose participation in the development of our local economic future is so crucial.