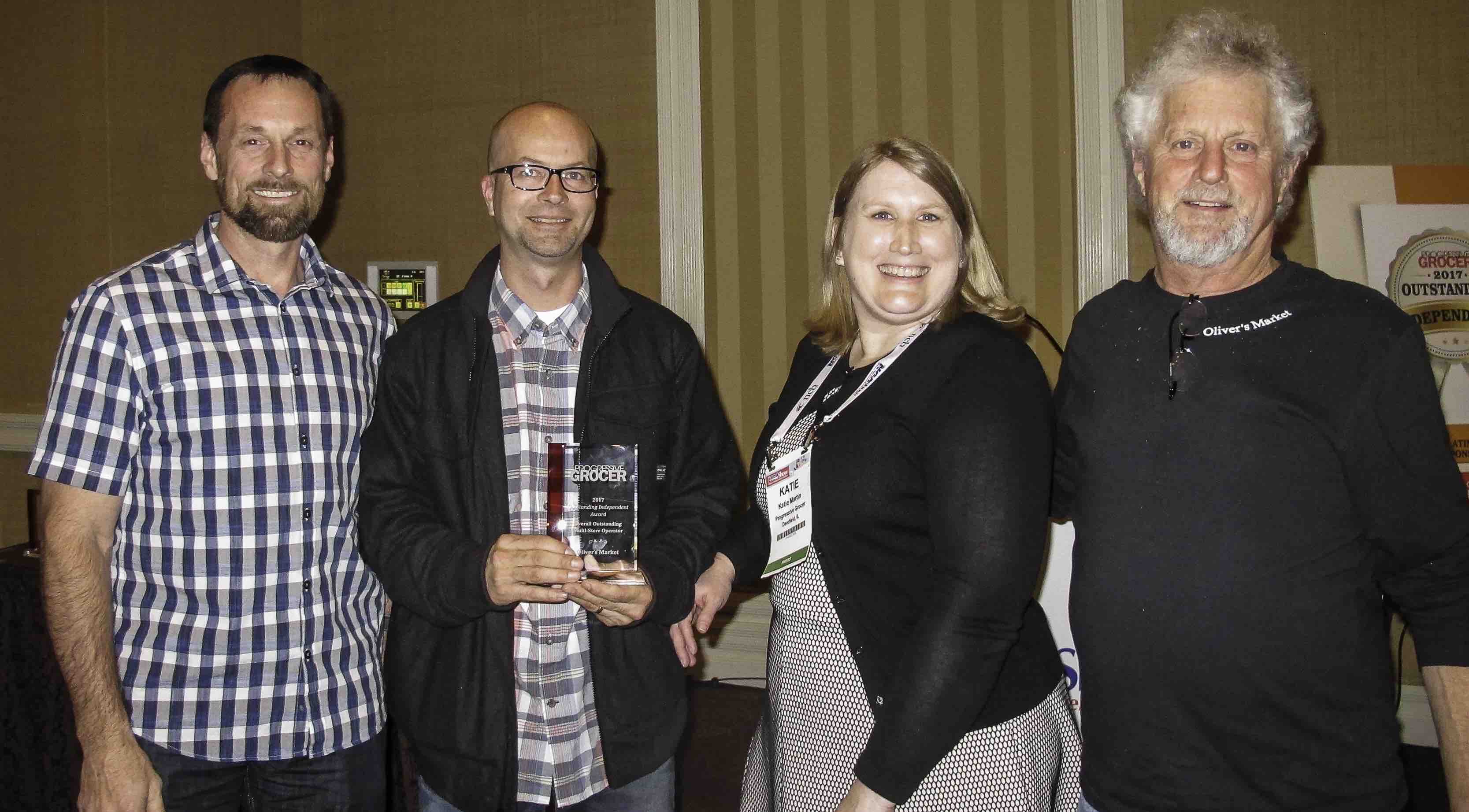 ---
Oliver's Market has been named the 2016 Progressive Grocer Outstanding Independent in the Multi-Store category. The company was honored in an awards ceremony on February 13, 2017 in Las Vegas during the National Grocers Association convention.
Candidates for the awards are nominated by industry associations, suppliers, and wholesalers, as well as via editorial recommendations. The dozens of nominees from the field of over 21,000 independent grocery stores in the US were slotted into 10 categories this year, and will be featured in February 2017 issue of Progressive Grocer magazine. Oliver's earned the Overall Outstanding Independent Multi-Store Operator award. Other categories include awards for outstanding departments (Produce, Meat, Deli, etc.), use of technology, and new design concepts. The winners are selected by the Progressive Grocer magazine editorial board using a range of criteria to honor companies who, in their opinion, do more for the particular department or category than the above-average independent.
"Oliver's Market was selected as Progressive Grocer's Overall Outstanding Independent Multi-Store Operator because the stores tick all the boxes of what today's consumer needs in a supermarket: a selection of both organic/natural and traditional items that meets the way they shop and eat; generous offerings of freshly prepared products and meals to make mealtimes easy for time-strapped families; and a commitment to sourcing from local manufacturers and producers that allows shoppers to feel like they are contributing to the overall health of their community," said Katie Martin, Senior Editor at Progressive Grocer.
"We are truly honored to receive this national recognition of Oliver's Market by Progressive Grocer," said Oliver's Market owner and founder Steve Maass. "Our team has worked over the years to provide customers with a shopping experience they would enjoy, while remaining locally focused and independently owned. It is gratifying to see that our way of doing business and our commitment to customer choice is valued by our industry."
---
About Oliver's Market:
Established in 1988, Oliver's Market is a locally owned and operated grocer serving Sonoma County, California from four locations in Santa Rosa (2), Cotati and Windsor. Oliver's Markets strive to offer customers the finest selection of natural, conventional, and specialty products. This mission begins with a commitment to support the community through hundreds of local partners including farmers and producers of food, beverage, and wellness products. Oliver's carries over 6,000 locally produced products, which account for 26% of sales annually. A member of the Sonoma County GoLocal Cooperative, Oliver's received "Green Business Certification" from the Sonoma County Green Business Program (2011) and a "Best Practice Award" from the Business Environment Alliance (2007). It was named "Best Grocery Store" by the North Bay Bohemian (2000-2016) and won the "Outstanding Retailers Award" in 2005 and 2013 by the Specialty Food Association. In 2015 and 2016 Oliver's was chosen for "Best Local Produce" in the Press Democrat's "Best of Sonoma County" awards program. In 2016, Oliver's was named one of the "Best Places to Work in the North Bay" by North Bay Business Journal, and was the featured Store of the Month in the December 2016 issue of Progressive Grocer Independent magazine. Additionally, Oliver's earned the 2016 Progressive Grocer Outstanding Independent Award in the multi-store category. Learn more at www.oliversmarket.com.
---
About Progressive Grocer:
As the voice of the retail food industry for more than 90 years, Progressive Grocer's core audience targets top management at headquarters and key decision makers at store-level. From chain supermarkets to regional and local independent grocers, supercenters, wholesaler distributors, manufacturers and other supply chain trading partners, readers rely on PG for its authoritative, comprehensive, relevant, research-based editorial content and need-to-know news. By anticipating, reporting and interpreting the grocery industry's top trends and information, Progressive Grocer fulfills its mission to stay Ahead of What's Next. Learn more at www.progressivegrocer.com