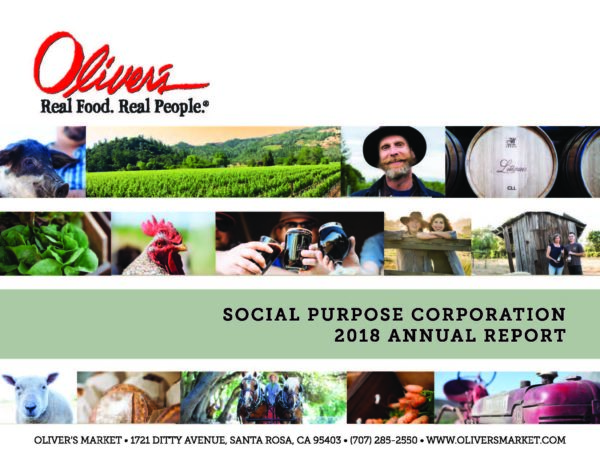 ---
Sonoma County-based Oliver's Market received the 2020 Progressive Grocer magazine's Outstanding Independents Award for Social Purpose. Oliver's was selected from independent store nominees nationwide for the company's commitment to working with as many local purveyors, producers, and vendors as possible and issuing their first Annual Report as a Social Purpose Corporation. The award will be presented at a reception on February 24 at the National Grocers Association show in San Diego.
Progressive Grocer's eighth annual Outstanding Independents Awards recognizes independent grocery retailers that excel in their operations, offerings and – most importantly – their unique connection to their respective community. This year, Oliver's Market was recognized for their commitment to Social Purpose among 18 winners in the following categories: Single-Store Operator, Multi-Store Operator, Bakery, Culinary, Deli/Prepared Foods, Ethnic, Experience, Food Security, Local, Meat/Seafood, Produce, Health & Wellness, Social Purpose, and Sustainability.
"At the time we became an Employee-Owned company in 2017, we also became a Social Purpose Corporation, a California business designation which allows us to consider our community, our employees, and the environment when making any business decisions," said Steve Maass, Oliver's founder and president. "Receiving recognition for this commitment and the release of our first Annual Report amid so many outstanding independent grocers is an honor."
To view Oliver's Market 2018 Social Purpose Corporation Annual Report, click HERE. The 2019 report will be issued in April. To learn more about the Progressive Grocer Outstanding Independents Awards, click HERE.
Established in 1988, Oliver's Market is an employee-owned, independent grocer serving Sonoma County, California from four locations in Santa Rosa (2), Cotati and Windsor. Oliver's Markets strive to offer customers the finest selection of natural, conventional, and specialty products. This mission begins with a commitment to support the community through hundreds of local partners including farmers and producers of food, beverage, and wellness products. Oliver's carries over 6,000 locally produced products, which account for 26% of sales annually. Oliver's was a founding member of Sonoma County GO LOCAL in 2009 and first earned their Green Business Certification from the Sonoma County Green Business Program in 2011.
National recognition includes the Specialty Food Association's "Outstanding Retailers Award" in 2005 and 2013. Additionally, Oliver's was the featured Store of the Month in the December 2016 issue of Progressive Grocer Independent magazine and earned the 2017 Progressive Grocer Outstanding Independent Award in the multi-store category. In 2019, Oliver's won the Progressive Grocer Outstanding Independent Award for Local Focus in the multi-store category and in 2020 Progressive Grocer honored Oliver's with another Outstanding Independents Award in the Social Purpose category.
Locally, Oliver's has been named "Best Grocery Store" by North Bay Bohemian readers annually since 2000, and in 2015, 2016, 2017, 2018 and 2019, Oliver's won the "Best Local Produce" category in the Press Democrat's "Best of Sonoma County" awards program. In 2017, 2018, and 2019 they added "Best Local Grocery Store", "Best Butcher", and "Best Deli" to their "Best of" honors. Oliver's was named one of the "Best Places to Work in the North Bay" by North Bay Business Journal in 2016, 2017, 2018, and 2019 and received the "Inclusive Employer Award" from Down Syndrome Association North Bay in 2016. Oliver's Market became an Employee Owned Company (ESOP) and a Social Purpose Corporation in 2017. Learn more at www.oliversmarket.com.