May 6, 2013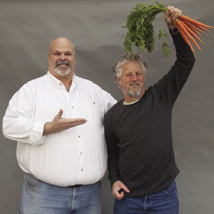 Sonoma County Grocery Chain Is One of Five in USA
Sonoma County's Oliver's Market and four other specialty food retailers from across the country have been named "Outstanding Retailers of 2013" by the Specialty Food Association. Oliver's has stores in Santa Rosa and Cotati.
The awards will be presented on July 1, 2013 during the Summer Fancy Food Show in New York City at a gala awards ceremony hosted by internationally acclaimed chef Marcus Samuelsson. The winners are featured in the May/June issue of Specialty Food Magazine.

"It is a great honor and privilege to be considered for this award," said Oliver's Vice President and General Manager Tom Scott. "It would be impossible to maintain an independent grocery store without the support of our local community. We owe this award to our staff, customers and local partners who allow Oliver's Market to be what it is."

"Oliver's pioneered the crossover between conventional and natural supermarkets in the Bay Area," states Specialty Food Magazine, "and today provides a one-stop shopping experience in Sonoma County, California with three locations and a heavy emphasis on truly local products."

The winners were selected by a panel of leading specialty food professionals including manufacturers, distributors, previous honorees and editors of Specialty Food Magazine.

"These retailers share a passion that goes beyond presenting good food," says Ann Daw, president of the Specialty Food Association. "They are educators, caring neighbors, and champions of food makers who are creating the best in specialty food."
---

About Oliver's Markets | Real Food | Real People
Established in 1988, Oliver's Markets (www.oliversmarket.com) is a locally owned and operated grocery chain in Sonoma County, California that is dedicated to offering the finest selection of natural, conventional and specialty products. This mission begins with a commitment to support a community of 300 local partners including staff, schools, nonprofit groups, farmers, and producers of food and wine as well as its "Green Item of the Month" and the Sonoma County Real Music program. A member of the Sonoma County GoLocal Cooperative, Oliver's received "Green Business Certification" from the Sonoma County Green Business Program (2011), recognition from Specialty Food Magazine as one of the "Outstanding Retailers of 2013", a "Best Practice Award" from the Business Environment Alliance (2007), and the title of "Best Grocery Store" from the North Bay Bohemian (2010).
---
Some content for this release was obtained from the May 5, 2013 release by the Specialty Food Association.
Contact: JAG Public Relations (joe@jagpublicrelations.com, 707.795.9400)