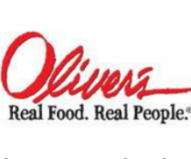 ---
Santa Rosa, CA, February 28, 2017 – Oliver's Market was named the "Inclusive Employer of the Year" for 2017 by Down Syndrome Association North Bay (DSANB). The company will be honored as part of the DSANB's annual fundraising event, Voices for Down Syndrome (V4DS) on Saturday, March 4 in Petaluma.
"We felt it was time to recognize the good work that businesses in our community provide to individuals with disabilities," Said John Busick, founder of the V4DS event and DSANB board member. "Oliver's is a champion for recognizing this need and we felt it was important to bring awareness so that other companies in our community would follow suit."
Since 1997, Oliver's has worked with Sonoma County Office of Education (SCOE) to participate in workforce training programs for individuals with special needs. Many trainees over the years have completed the program and continued working for Oliver's, and the group of organizations has grown over the years to include Becoming Independent and other programs.
"Everyone at Oliver's is very excited and gratified to receive this award," said Oliver's Market president and founder Steve Maass. "We believe in supporting our community and creating a work place and a retail shopping experience that is truly welcoming to all. Our work with SCOE, Becoming Independent, and other organization who support this program has been extremely gratifying for our management and our employees. We hope raising awareness of these kinds of programs will encourage other businesses to consider becoming involved."
---
About Oliver's Market
Established in 1988, Oliver's Market is a locally owned and operated grocer serving Sonoma County, California from four locations in Santa Rosa (2), Cotati and Windsor. Oliver's Markets strive to offer customers the finest selection of natural, conventional, and specialty products. This mission begins with a commitment to support the community through hundreds of local partners including farmers and producers of food, beverage, and wellness products. Oliver's carries over 6,000 locally produced products, which account for 26% of sales annually. A member of the Sonoma County GoLocal Cooperative, Oliver's received "Green Business Certification" from the Sonoma County Green Business Program (2011) and a "Best Practice Award" from the Business Environment Alliance (2007). It was named "Best Grocery Store" by the North Bay Bohemian (2000-2016) and won the "Outstanding Retailers Award" in 2005 and 2013 by the Specialty Food Association. In 2015 and 2016 Oliver's was chosen for "Best Local Produce" in the Press Democrat's "Best of Sonoma County" awards program. In 2016, Oliver's was named one of the "Best Places to Work in the North Bay" by North Bay Business Journal, and was the featured Store of the Month in the December 2016 issue of Progressive Grocer Independent magazine. Additionally, Oliver's earned the 2016 Progressive Grocer Outstanding Independent Award in the multi-store category. Learn more at www.oliversmarket.com.
---
About Down Syndrome Association North Bay
The mission of DSANB is to promote self-advocacy, raise awareness, further educational pursuits and support inclusion of individuals with Down Syndrome and their families in the North Bay of California. Down Syndrome Association North Bay is a 501 (c) (3) non-profit organization. DSANB families share a common bond between their children, stories, and experiences. They are available to greet new families as babies are born, acting as friends who lend help and offer insight by sharing stories, social gatherings, and educational pursuits. Learn more at dsanb.org.