By: Ann Hancock
May 5, 2013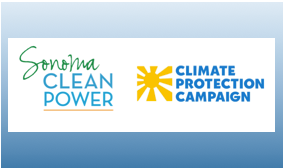 Sonoma Clean Power, a proposed local program that buys and generates electrical power for residents and businesses, was approved by the Board of Supervisors for the unincorporated part of Sonoma County on April 23, 2013.
Now the question comes to your city! Do you want a choice about how your electrical power is generated? You won't have a choice unless your city votes "yes." We now have a huge opportunity - like we've never had before – to significantly reduce our greenhouse gas emissions.
We have a lot of work between now and June 30 to convince city council members to vote "yes" on Sonoma Clean Power to give residents and businesses a choice.
Tell your representatives you want:
Choice
Jobs and an economic boost by emphasizing local power
Clean local power
Tell your city, "Give us a choice! JOIN the SONOMA CLEAN POWER AUTHORITY!"
Please show up when Sonoma Clean Power will be on council agendas.
Sebastopol – May 7th 6pm
Cloverdale – May 8th 6:30pm
Rohnert Park – May 14th 5pm
Windsor – May 15th 5pm
Petaluma – May 20th 7pm
Santa Rosa – May 21st 4pm
Cotati – May 22nd 7pm
Sonoma – June 3rd 6pm
(Please check city websites for last minute changes.)
Other things you can do …
Sign the online petition here in support Sonoma Clean Power: http://climateprotection.org/petition/. Please take a moment to sign it to show your support. The petitions will be delivered to the your city council members and supervisors.

Call and/or email your elected representatives and let them know you want a choice. Urge them to participate in Sonoma Clean Power

Write a letter to the editor of the Press Democrat (letters@pressdemocrat.com) or your local paper

Tell your friends and colleagues to speak up about Sonoma Clean Power!
---
See articles in the Press Democrat on the subject:
GUEST OPINION: Sonoma Clean Power process has been careful, thoughtful 4/30/13
GULLIXSON: Now's the time for the cities to decide on public power plan 4/28/13
Sonoma County kick starts a public power agency 4/24/13
---
Issues and Responses
The process is being rushed
The county has actually been evaluating SCP for about six years. In 2007 the SCWA participated with the Climate Protection campaign in taking the initial legally required steps in starting a community choice aggregation program. CCA was a key highlight in the 2008 Sonoma County Community Climate Action Plan (www.coolplan.org). Dozens of presentations have been given by the SCWA and the CPC about Sonoma Clean Power. Each eligible city in the County has received at least 3 full presentations on Sonoma Clean Power beginning in early 2011.
Will SCP actually have a dirtier power mix than PGE?
SCP will launch with 33% RPS-qualified renewable energy. PGE is currently at about 20%. PGE and its defenders count nuclear and large hydro electric power as "clean." They assert that nuclear and large hydro emit little or no GHGs. We all know the perils of nuclear, and large hydro is an enormously environmentally damaging source. The State of California agrees, and doesn't count nuclear or large hydro as renewable sources. Both are dead ends in terms of expanding clean power. SCP will start with at least 33% renewables and increase from there, with a special emphasis on new local renewables and energy efficiency.
Opt out/opt in
Right now there is no opting out of PG&E, no choice. A city voting YES to join the Sonoma Clean Power Authority is saying that it wants its constituents to have a choice. The law that established CCA set it up this way so that the program could calculate its anticipated load more easily and to level the playing field in terms of marketing capacity. PGE has many marketing advantages that place any start-up without the opt-out choice architecture at a virtually insurmountable disadvantage.
The PD editorial of 4/26 states that "opting out is not in the cards for the county." The fact is that the county and the cities can "opt out," or decide not to participate in the Sonoma Clean power Authority, at any time. The April 23rd decision to implement the program is contingent upon completion of several elements of the program, including the submittal and acceptance of the Implementation Plan to the California Public Utilities Commission. This fact was made abundantly clear by the staff at the April 23rd meeting.
Will Sonoma Clean Power really boost local jobs?
A boost in jobs will materialize when we move aggressively on developing local renewable energy resources including energy efficiency. We must keep urging our policymakers for this.
Putting county and city resources at risk
A recent PD editorial states that Sonoma Clean Power "requires $25 million in county resources." This isn't true. The only connection between Sonoma Clean Power and county or city resources is the county's guaranty for $2.5 million of the $10 million line of credit from First Community Bank. The line of credit will be repaid through rate revenues.
Need for transparency in the bidding process
Public access to information about energy is important. That is one of the reasons we are working to establish SCP. Sonoma Clean Power Authority (SCPA) decision-making meetings will be public meetings. Regarding the disclosure of details of the current negotiation process, making all of that info public would jeopardize the ability of Sonoma Clean Power customers to receive the best rates. The law upholds this closed bid practice for government because it serves the common good.
Renewable Energy Certificates (RECs): Are they "real" in terms of counting as green energy?
RECs are a transition tool for developing local renewable energy resources. RECs are a well-established, state-approved way of accounting for renewable energy generation. There are three types of RECs. The type people are concerned about are "Unbundled RECs" meaning the ones where a payment is made for the attribute of the power produced but not for the power itself.
Since no one else pays for that attribute it can be said to be "real" in terms of the acknowledged value being accounted for. There are trade-offs to be made when launching a program like SCP. RECs help keep rates low while launching with a high ratio of category 1 or "bundled RECs, meaning that we are buying clean power and the attributes that go along with it. The purchase of unbundled RECs is limited and the intention is to reduce the ratio of unbundled RECs over time.
Contracting with Shell Oil or a similar energy service provider
The Sonoma Clean Power Authority received 11 bid from energy service providers. This is several orders of magnitude more than previous RFPs for similar services in Marin, San Francisco, and the San Joaquin Valley. We are hopeful that the winning bidder is one with which all will be happy.
---
For more information call Woody Hastings at 707-525-1665 ext. 117, woody@climateprotection.org www.climateprotection.org