Dec. 28, 2015
#1 - WHY BE A GO LOCAL BUSINESS?
If you want to increase your sales and feel part of the local business community, be a GO LOCAL business. Through our targeted branding and media, GO LOCAL reaches exclusively local-loving consumers in Sonoma County - your customers.
GO LOCAL does economic development marketing.
GO LOCAL promotes our locally owned businesses, which strengthens our local economy.
GO LOCAL is a marketing organization for locally owned independent businesses. Businesses use a shared brand, targeted advertising, and a Rewards Card to increase sales and gain market share.
---

Benefits include...
SHARED BRANDING - License to use the logos
BUSINESS LISTING at golocal.coop & in Pocket Guide 2x/year.
Your biz logo on every page at golocal.coop if you have top # of recommendations.
STORIES and PROFILES published on golocal.coop.
SOCIAL - Tie in to our popular social media channels.
TRAINING sessions for staff.
PROMOTE events - Submit them to golocal.coop.
NETWORK - Attend monthly Refer Local meetings.
ADVERTISING - Special pricing in traditional and new media!
REWARDS CARD - Offer a "show the card" or "swipe the card" reward .
Get free Rewards Cards for all staff.
...Read our full list of participation benefits.
...Review our business FAQs.
...Let some GO LOCAL businesses tell you why with their testimonials.
...View or download the 4-page PDF of GO LOCAL program features and benefits (as shown to right)
Want to speak with a GO LOCAL rep to learn more?
Call us at 707-888-6105 ext. 2 to get started, or request a call or email with this button:

---
If you're ready to participate and want to skip the information below, just go to the registration page to start, or log in (upper right of website) if you already have a golocal.coop user account.
Verify your business meets our criteria.
Business is privately held (not publicly traded).
50% or greater of the business owners live in Sonoma County.
Business corporate headquarters are in Sonoma County.
Business makes independent decisions regarding the name and look of the business, as well as all business purchasing practices and distribution.
Business pays all its own rent, marketing expenses and other expenses.
There are four tiers of business participation.
Begins on your join date and renews on that date annually.

Sign up now:
Join ONLINE via PayPal:

click here

.
Set up a user account, make your annual fee payment via PayPal, and then you'll be redirected to your account page to create your online business listing.
Or join via PAPER APPLICATION AND CHECK:

click here

.
Download and print the PDF application, complete it and mail it in with your annual fee payment.
---

Once you're a member, increase your sales and feel part of the local business community by working your membership.
---
How to Use the Shared Branding
Watch this video and read more here to see and hear members describe the benefits they've received using GO LOCAL Shared Branding.
Rewards Card Helps Measure Your Results and Engage Your Customers
Watch this short video to learn how Rewards Card and GO LOCAL Bucks Work. Once you become a GO LOCAL member, then you can set up merchant participation with the GO LOCAL Rewards Card.
---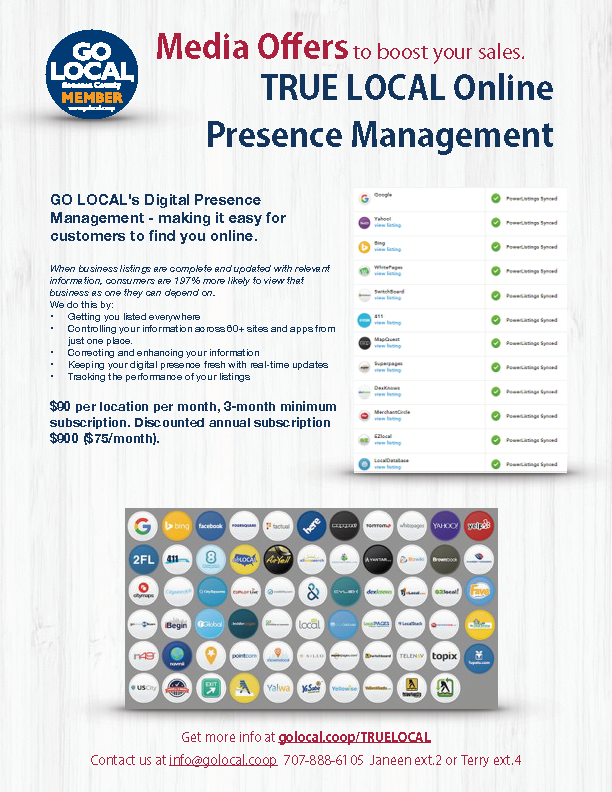 Supercharge your GO LOCAL membership these ways:
Buy bundled media packages through GO LOCAL.
Buy digital, print, radio, and outdoor advertising through GO LOCAL and its partners.
Reserve one of the above options at golocal.coop/media
---