Photo courtesy of Kent Porter/Press Democrat
Aug. 11, 2015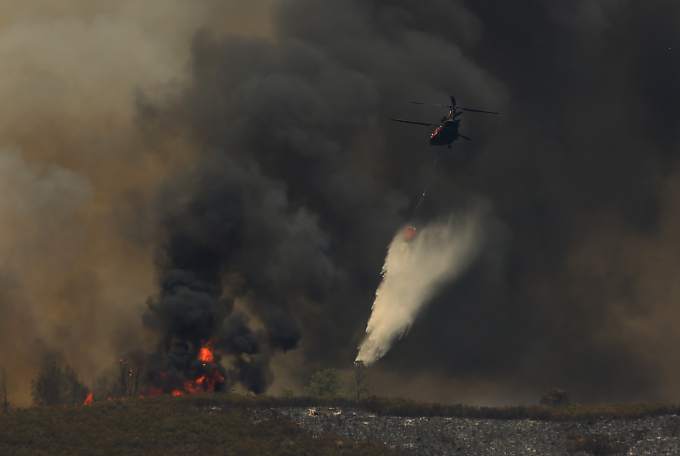 Photo courtesy of Kent Porter/Press Democrat
Redwood Credit Union (RCU) and the Press Democrat have partnered to assist with relief efforts for the recent major fires causing damage in Lake County. Redwood Credit Union is now accepting contributions to assist the Lake County community with relief efforts for those impacted by the Rocky Fire and the Jerusalem Fire.
Anyone is welcome to make a donation at any of RCU's 16 Bay Area branch locations, or by calling RCU's Member Service Center at 1 (800) 479-7928, option 5, ext. 65491. Details are available at www.redwoodcu.org/firerelief. The Press Democrat will publish names of the individuals and organizations that provide support and wish to be recognized.
Contributions to the fund may be made at any RCU location via cash deposit, direct funds transfer or check payable to Redwood Credit Union. All contributions will be distributed to nonprofit agencies and first-responders in the Lake County community to assist with Lake County fire relief efforts.
"Our hearts go out to everyone affected by the fires in Lake County," said Brett Martinez, RCU's President & CEO. "Accepting contributions for fire relief efforts is our way of offering assistance, and responding to the requests of our Members and others in our community who would like to help," Martinez added.
To find the nearest RCU branch, visit http://www.redwoodcu.org/locations or call 1 (800) 479-7928.
---
About Redwood Credit Union
Founded in 1950, Redwood Credit Union is a full-service financial institution providing personal and business banking services to anyone living or working in the North Bay or San Francisco. As a financial cooperative focused on people not profit, RCU offers complete financial services including checking and savings accounts, auto and home loans, credit cards, online and mobile banking, business services, commercial and SBA lending, and provides investment and financial planning services through CFS. The Credit Union also offers a variety of insurance products and discount auto sales through its wholly-owned subsidiary. RCU currently has $2.6 billion in assets and serves 250,000 Members with full-service branch locations from San Francisco to Ukiah, and more than 30,000 free network ATMs nationwide. RCU has a five-star Bauer Financial rating, and is rated Excellent by Weiss Ratings. For more information, please call 1 (800) 479-7928 or visit www.redwoodcu.org.