RCU Marketing Department Recognized for Excellence in Four Categories
April 2, 2018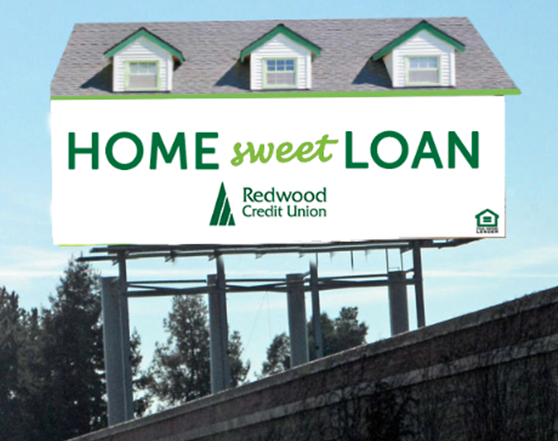 Redwood Credit Union (RCU) recently received four Diamond Awards at the annual Credit Union National Association (CUNA) Marketing & Business Development Council conference in San Francisco, Calif. RCU's Marketing Department was recognized in four categories, including:
· Membership Marketing: membership acquisition campaign
· Outdoor: home loan billboard
· Point of Sale Display & Retail Merchandising: Mill Valley "Branch of the Future"
· Video: introductory video for RCUpay – RCU's custom P2P payment service
"We're honored to be recognized for our marketing efforts and I'm fortunate to work with a talented team," said Robin McKenzie, RCU's Senior Vice President of Marketing and Communications. "We work hard to educate and inform Members and our community about how to achieve financial wellness so they can live a life they love."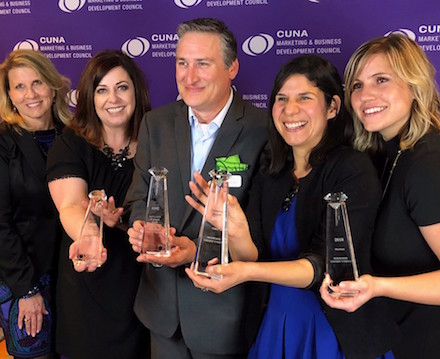 Considered the most prestigious annual credit union industry competition, the Diamond Awards provide national recognition of creative excellence and outstanding results.
The membership marketing award was given to RCU for its "Make this Your Year" campaign, which included refreshingly optimistic messaging focused on feeling good about where you bank.
RCU also received an Outdoor award for its welcoming, house-shaped mortgage loan billboard that read, "Home Sweet Loan."
For its video on RCUpay—RCU's free person-to-person payment service—RCU received a best video award, which can be viewed here: http://bit.ly/RCUpay
A point-of-sale display and retail merchandising award was given to RCU for its innovative new Mill Valley "branch of the future," which features digital media screens, a bank of ATMs with digital monitors and messaging, educational merchandising, a children's activity area, and warm and fresh tones throughout the branch space. Serving the Mill Valley area of Marin (RCU's third Marin location), the branch features three ATMs for cash transactions, freeing up financial representatives to provide residents and businesses with consultative services on new accounts, mortgage and auto loans, and other financial needs, as well as RCU's expanded services such as insurance, auto sales, and financial planning to help members prepare for the future.
---
About Redwood Credit Union
Founded in 1950, Redwood Credit Union is a full-service financial institution providing personal and business banking to consumers and businesses in the North Bay and San Francisco. RCU offers complete financial services, including checking and savings accounts, auto and home loans, credit cards, online and mobile banking, business services, commercial and SBA lending, wealth management, investment and financial planning services, and more. The Credit Union also offers insurance and discount auto sales through their wholly-owned subsidiary. RCU has over $4 billion in assets and serves over 300,000 Members with full-service branches from San Francisco to Ukiah, more than 30,000 fee-free network ATMs nationwide, and convenient, free online and mobile banking. RCU can be followed on Facebook at facebook.com/redwoodcu and on Twitter at @Redwoodcu. For more information, please call 1 (800) 479-7928 or visit www.redwoodcu.org.