The issue, highlighting "Local Love," takes an in-depth look at the family-owned store's innovative farm-to-store program and its strong focus on supporting local producers throughout all store departments.
Feb. 5, 2013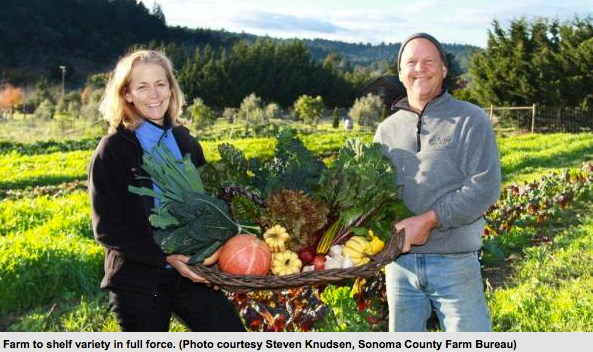 GO LOCAL member Shelton's Natural Foods Market in Healdsburg is featured in the February 2013 issue of the leading natural products industry publication Natural Foods Merchandiser.
To read the article online click here.
"We've focused on showcasing local growers and producers since day one of opening the store five years ago," said store manager Marty Shelton, who co-owns the store along with his brothers, Ernie and Jim. "It feels great to have our efforts noticed by a national publication."
NFM Editor-in-Chief Carlotta Mast writes in the issue, "I had the privilege of walking the Shelton's organic vegetable garden in 2011. As I walked the 1.5 acres with Ernie and Marty Shelton, I could see, smell and feel their passion for bringing healthy, organic food to their local community. This passion emanated from the garden's rows of chard, kale, beets and other vegetables, and it emphasized to me how lucky we are to have people like the Sheltons committing their time and talents to the world of natural food retail."
The Sheltons built their reputation as natural foods retailers in Sonoma County in the 1990s with their three Food for Thought markets, which were acquired by Whole Foods in 2000. In 2008, the Sheltons purchased the former Anstead's market on Center Street and transformed it into a full-service natural foods store with an organic produce stand, grocery shelves focused on organic and natural, a body care and supplements department and a deli with salad bar and hot food case.
In 2010, Ernie Shelton began growing produce using organic methods on his west Sebastopol property to supply fresh fruits and vegetables to the store. The program was immediately successful, so Shelton and his fiancee and business partner Susan Bryer leased an additional two acres of land over the past two years and obtained organic certification under the USDA National Organic Program.
In high growing season, the micro-farm, Shelton's Market Garden, provides about 15% of the produce - lettuces, kales, swiss chard, carrots, beets, garlic, potatoes, leeks, tomatoes, strawberries and more - sold at the produce stand at Shelton's store. Last year Shelton added a flock of laying hens to his Sebastopol operation and now sells the eggs through the store.
In addition to sales at the Healdsburg store, Shelton's Market Garden operates a seasonal farm stand at the garden, from approximately June through November, where its organic produce and eggs are sold directly.
Shelton's Natural Foods Market
is located at 428 Center Street, Healdsburg.
Shelton's Market Garden
is located at 625 Sexton Rd., Sebastopol.
A Sonoma County GO LOCAL member and Made Local participant.