---
If you want to support community with your purchasing power, GO LOCAL is here to help you.
"Never doubt that a small group of thoughtful, committed citizens can change the world. Indeed, it is the only thing that ever has." - Margaret Mead
---
Quality of Life and A Healthy Economy
Despite the many differences residents of Sonoma County may have, there is one thing we all share in common—we want a better quality of life. Quality of life can mean different things to different people. But most people agree that having a strong local economy is a major influence. After all, we all want good jobs for ourselves and our neighbors.
A strong local economy creates higher quality of life for all residents. It starts with you and the few simple choices you make every day about purchases.
---
You Can Help Build a Strong Local Economy'—Shift your spending to local businesses
The average Sonoma County household spends slightly more than $60,000 a year on goods and services. If all of that were spent with local goods and services providers, then an estimated $15,000 or 25% more per average household would re-circulate in Sonoma County. That's $2.3 billion every year.
Buying online is the worst possible scenario for where to put your money. Sonoma County residents spent approximately $560 million online last year. Poof, gone. Not only did we lose the sales taxes on most of that, there was no benefit to ANY locally owned business nor to other businesses with a location here.
So, what can you do? We may be idealistic, but we're not unrealistic. We're asking you to shift some of your purchasing to locally owned businesses.
Here's a simple example.
The next time you head to a grocery store, consider going to Oliver's Market, Andy's Produce Market, Community Market, Molsberry's Market, or other local grocers. They offer a great selection of local products at very competitive prices. Let's say you spend $200 per week on groceries. When you shop at those markets, about $50 more stays in Sonoma County than if you went to a grocery store that is owned by a company outside Sonoma County. That adds up to $2,600 a year you have contributed to your community.
GO LOCAL and our Rewards Program can help you shift your purchasing, which means you can contribute to our local economy without spending more, just spend smarter.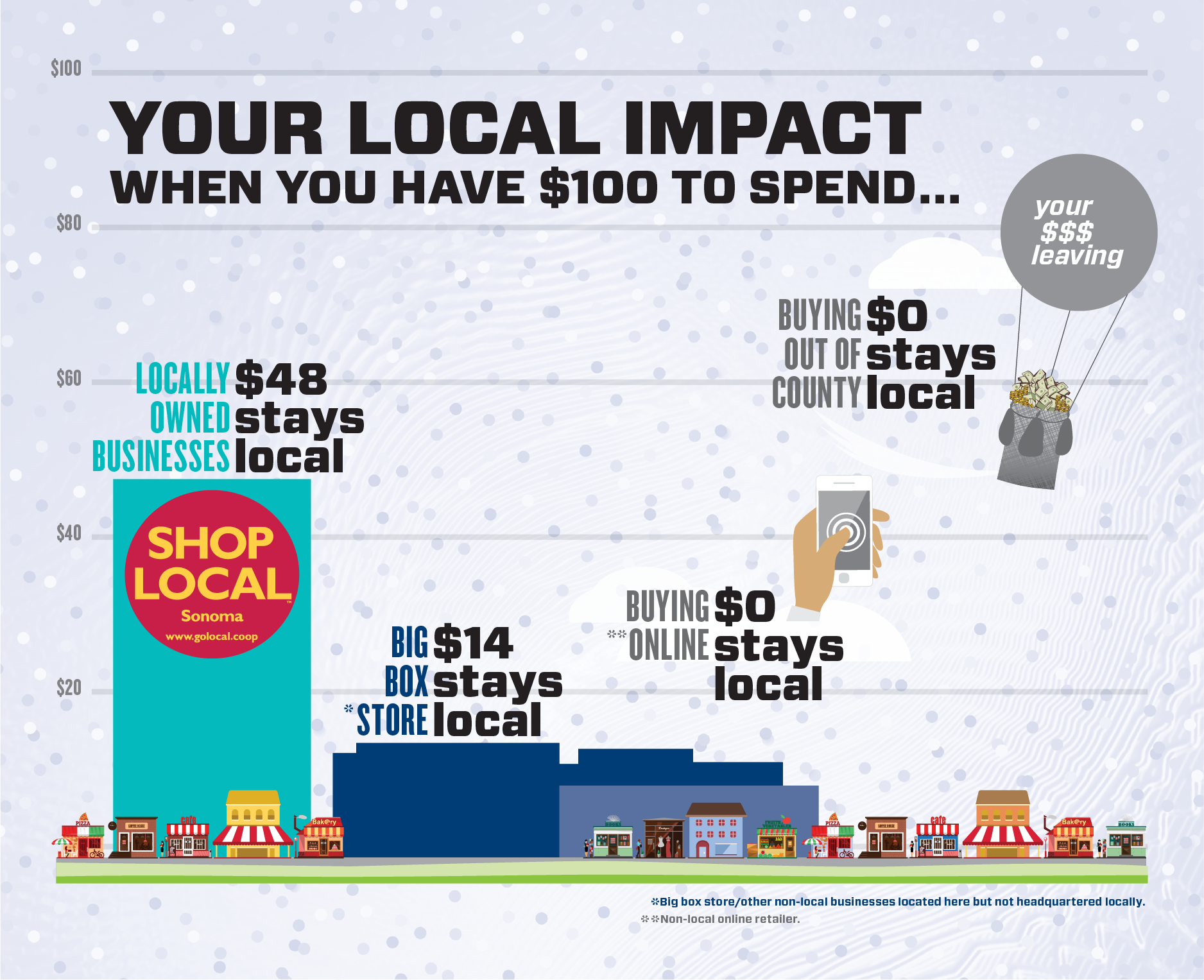 Please help spread the word by:
*Visiting GO LOCAL's Facebook page for information about local businesses and organizations, local events, educational resources, and more.
*sharing our GO LOCAL Pocket Guide - available to pick up for free at local merchants!
*reading and sharing Made Local Magazine - Pick up a FREE issue in racks at local grocers, or read it online.
forwarding them this newsletter.
"When I moved here, GO LOCAL was the first face of Sonoma County I saw - it gave this place personality and ethic, and made me excited to live here. GO LOCAL resources also helped me to discover new-old ways to have fun, like going to farmer's markets and finding cool community events." - SSU Student Tomio Endo
Together, we can continue to help build and sustain a strong local economy.
Many of our members offer rewards as a thanks for your patronage, and now in 2020 it's easier than ever to reap the rewards of spending locally with GO LOCAL's "Show the Card" offers.