April 29, 2013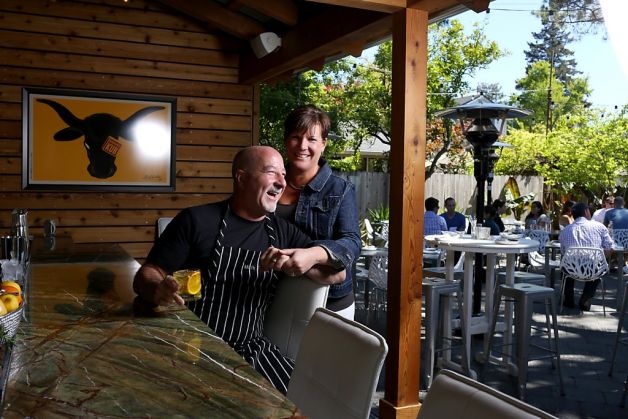 GO LOCAL Members Mark and Terry Stark of Stark Reality Restaurants get double press in April 26, 2013 SF Chronicle online.
Their five Sonoma County restaurants are Stark's Steakhouse & Seafood, Monti's Rotisserie & Bar, Willi's Wine Bar, Willi's Seafood & Raw Bar, and the newest Bravas Bar de Tapas.
---
Starks' restaurants display versatility
Michael Bauer, sfgate.com Updated 2:45 pm, Friday, April 26, 2013
What sets Mark and Terri Stark apart from many restaurateurs who have multiple locations is that each location is different. If their names weren't written on the menu, in fact, you probably wouldn't know it was one of their properties.
Opening five restaurants in a little more than 10 years is a challenge, like hitting a bull's-eye on a speeding train. While the Starks may not hit their target every time, they've proved to have very good aim.
Here's a rundown of their five restaurants, in the order in which they opened. You can find more information about each restaurant by going to www.starkrestaurants.com.
Read more: http://www.sfgate.com/restaurants/article/Starks-restaurants-display-versatility-4467398.php#ixzz2RupAqeFr
---
Mark and Terri Stark go with their gut
Meredith May, sfgate.com Updated 4:54 pm, Friday, April 26, 2013
Mark and Terri Stark, owners of five popular restaurants in Sonoma County, have a business philosophy that goes something like this: Get out a bar napkin, scratch out a few ideas. Order a beverage. Mull it over some more - maybe five minutes. Then, go with your collective gut.
The couple don't hire consultants, don't worry too much if they've made the wrong decision, and they do what they think is right, even if it is more expensive.
"We don't overthink," Terri says.
So far, their strategy has worked. They opened their first restaurant, Willi's Wine Bar in Santa Rosa, in 2002, inspired by their second date.
Read more: http://www.sfgate.com/restaurants/article/Mark-and-Terri-Stark-go-with-their-gut-4467407.php#ixzz2RuppEEHG