With the U.S. economy struggling, Americans believe community planners should play a major role in helping the nation get back on its feet, according to a national poll released by APA on June 14, 2012.
July 12, 2012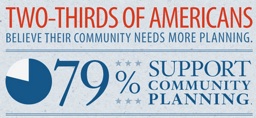 When asked if a community plan - defined as a "process that seeks to engage all members of a community to create more prosperous, convenient, equitable, healthy and attractive places for present and future generations" - would benefit the community, 79 percent of respondents agreed. And that's across a broad political spectrum with 88 percent of Democrats, 77 percent of Republicans, and 81 percent of independents in agreement.
Community plans are a key component in bringing those ideas to life. According to a new poll from the American Planning Association, Americans agree. Two-thirds of the 1,300 Americans surveyed said that their community needs both planning and market forces to improve its economic situation.
Respondents were also asked to rank the top five factors that make up an "ideal community." The results:
Locally owned businesses nearby
Being able to stay in the same neighborhood while aging
Availability of sidewalks
Energy-efficient homes
Availability of transit
When asked to compare life for residents in their communities to five years earlier, an overwhelming number of respondents (84 percent) said that life was worse (49 percent) or the same (35 percent). Only 11 percent felt that living in their community was better than it was five years ago.