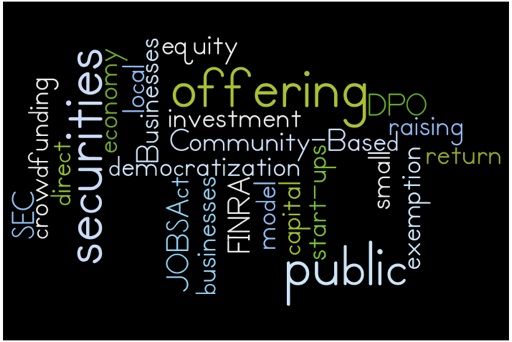 ---
This article originally appears at Cutting Edge Capital's website. It appears here with permission from them. Cutting Edge Capital is the leading expert on innovative financing tools and entity structuring that preserve mission and goals.
---
Excitement about the new crowdfunding securities exemption created under the JOBS Act continues to build despite the long wait for the SEC and FINRA to promulgate the rules that are necessary for the new law to go into effect. While the details of the new exemption remain largely unknown, we all hope that it will provide another viable way for companies to offer and sell securities publicly to both accredited and non-accredited investors and thus increase the flow of capital to small businesses and startups around the country. Unfortunately, however, it may be some time before companies can legally use this new exemption to raise capital from the crowd.
What many people may not know is that the new crowdfunding exemption is not the only way, nor perhaps the best way, to legally raise investment capital from the crowd. Companies have been legally raising securities-based capital from the crowd for decades using a tool called a direct public offering (DPO).
A DPO is a term that refers to a company's self-underwritten and self-administered public securities offering to both accredited and non-accredited investors in one or more states. Using a DPO, a company can market and advertise its offering publicly by any means it chooses – through advertising in newspapers and magazines; at public events and private meetings; and on the internet and through social media channels. Sounds a lot like crowdfunding right? That's because it is.
There are several legal compliance pathways that can be used to conduct a DPO. Depending on various factors, a company or nonprofit organization can use a DPO to raise up to $1 million per year and in some cases more.
Thousands of companies have successfully used DPOs to raise capital from the crowd. Ben & Jerry's, Annie's Homegrown, and Real Goods are just a few household names that have used DPOs in the past.
Obviously, until the SEC and FINRA issue final rules under the JOBS Act it is impossible to know whether the new crowdfunding exemption will be a useable compliance tool for small and medium sized businesses hoping to raise capital from the public. Even if the new law meets everyone's hopes, we are confident that DPOs will continue to be an increasingly popular tool for raising capital, and in many cases may be a better option for many businesses. Here's why:
Issuers can Raise More than $1 Million Using a DPO
Under the new crowdfunding exemption, issuers can only raise $1 million in any 12-month period whereas a DPO allows companies, in some circumstances, to raise more than $1 million.
Unrestricted Marketing Efforts for Issuers
Until the SEC and FINRA release final rules on the new crowdfunding exemption, we won't know the exact scope of activities that are permitted or prohibited. However, we do know that the JOBS Act requires that companies "not advertise the terms of the offering, except for notices which direct investors to the funding portal or broker." This means that issuers may not market their securities offering and instead must say nothing more than "please look at this crowdfunding website." This will create major challenges since a company's founders, directors, officers and other key personnel are best positioned to articulate the company's value proposition and sell the securities. Also, if the company itself can conduct its own advertising, there are many creative ways to combine the marketing of the securities and the business itself.
I suspect that JOBS Act funding portals will try hard to address this issue in various ways (e.g. through webinars, videos, sponsored events, etc.), but the freedom of issuers to openly market their securities to prospective investors directly will be very limited when using the new JOBS Act exemption. With DPOs, there are no middlemen (unless issuers choose to engage one) and there are no restrictions on marketing activities for issuers.
No Reviewed or Audited Financials
Under the new crowdfunding exemption, reviewed financials are required for offerings over $100k and audited financials are likely to be required for offerings over $500k. The cost of obtaining reviewed or audited financials can be prohibitive for many start-ups and small businesses with little or no operating capital. While some state securities laws also require reviewed or audited financials in connection with a DPO, many states do not have this requirement, and some states that do, also provide for the possibility of having the requirement waived.
Single State Offerings are More Appropriate for Community-Based Businesses
Many small businesses and start-ups simply do not need to conduct a public securities offering in all 50 states. Many (if not most) small community-based companies looking to raise capital will find that their investors are close to home (from within their local community and state); these would-be investors may either know the company already or are great candidates to become supporters. Certainly, a national offering will be desired for some companies who either wish to be nationally known, or who will need to attract investors from far and wide. But in many cases, a company may be much more effective by focusing on community support, as was the case with Ben and Jerry's, Annie's Homegrown, and Real Goods.
Conclusion
Ultimately, the new crowdfunding exemption (when it becomes legal) will provide companies with another option for accessing securities-based capital from the crowd and it could prove even more exciting for those wishing to build platforms and tools to offer issuers. In the meantime, the original crowdfunding model, the DPO, continues to provide companies with an effective way to conduct a self-underwritten and self-administered public securities offering. If you are a small or medium sized business, startup or nonprofit and are looking to immediately raise capital from the crowd through a public securities offering, a DPO is presently your only option and may be the best option even when the new crowdfunding law goes into effect.
Nathan Hyun is the managing director of Cutting Edge Capital, a consulting company that advises companies on issues relating to capital raising and crowdfunding. He is also a corporate and securities attorney focused on helping small and medium size businesses gain better access to capital. You can contact him by email at nate@cuttingedgecapital.com or follow him on Twitter @nthyun.
---
Sonoma County GO LOCAL champions Invest Local, Made Local and Bank Local.