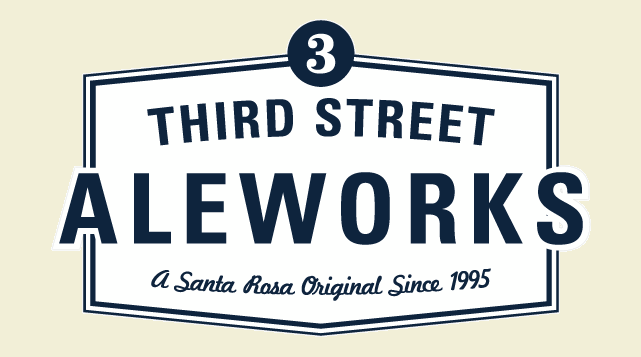 ---
Santa Rosa, CA - Third Street Aleworks is now under new ownership. On April 22, partners Chris and Arika Frederick (CEO and COO respectively) and Matthew Vella (CMO) closed the purchase from Todd Hedrick and Chris Hagan, who founded this venerable Santa Rosa brewpub in 1995.
A ribbon cutting and formal reopening — in a decidedly informal atmosphere — will take place at 10 a.m. on Saturday, June 1. The celebrations will continue throughout the weekend, featuring food and drink specials, discounts, commemorative T-shirts and other giveaways. "We're hoping to have a different giveaway every hour," said Vella, "as long as supplies last."
Vella added that beginning at noon on Saturday, "we'll also have the UEFA Champions League final between Tottenham Hotspur and Liverpool up on our screens for all our football (soccer) fans. And we'll have a fun and tasty raspberry grisette glitter beer for our Sonoma Pride participants."
Master Brewer Tyler Laverty, other team members to remain, providing continuity
"We're delighted to announce that Master Brewer Tyler Laverty is remaining with us," said Vella. Laverty came to Third Street Aleworks in 2009 as assistant brewer, fresh out of the UC Davis master brewing program where he earned his graduating class's highest honor, the Crisp Malting Award. Laverty has been serving as the master brewer at this popular Santa Rosa watering hole since 2014.
Vella added that the new owners are planning to "leave everything just the way our loyal patrons love it, from General Manager Michaela Hinkson and wait staff, to kitchen crew, brewers and management team. We're working closely with the team to ensure that Todd and Chris's vision remains alive and well, while re-energizing our marketing to let the community know what we're doing, and particularly what distinctive new creations Tyler is brewing." Vella added that the kitchen will be updated to make food service "more efficient."
While Third Street Aleworks remained open following the April 22 transition, for the first three and a half weeks under its new ownership, it could operate only under a tasting room permit, which allowed the sale of only beer and ale brewed on site. It returned to full beverage and restaurant operations as of May 15, following receipt of the required permits. It now once again serves not only its own brews, homemade/small batch root beer, two draft ciders, but also bottled beer and wine.
Third Street Aleworks was conceived and created as a "fun neighborhood pub with first-rate beer," said Vella, "and also as a 'community hub' where people can meet to watch 'the' game, play billiards or just talk over great beer and food while we treat them like family."