Vesta Copestakes answers the GoLocal questionnaire to help you better know the people behind the business.
By: GO LOCAL Staff
Feb. 19, 2010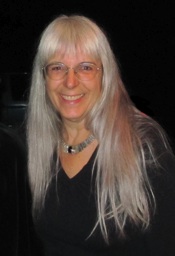 Vesta Copestakes of Sonoma County Gazette
GoLocal Member since 2009
What is your fondest memory of living in Sonoma County?
Choosing just one is challenging. Many years ago I chose Sonoma County to be my home. I left it for a few years then came back to settle permanently. When a place feels like HOME...it is home. There is a favorite view I see while traveling west along River Road toward my home town of Forestville. When you crest the hill just east of Trenton-Laguna Road, you look down across the valley to the hills beyond. Seeing fog and mist play among those hills captures my heart every time. I've been seeing variations on that view for decades now and it never seizes to stun me with its unique Sonoma County beauty.
Describe what you experience as the greatest treasure of Sonoma County.
The people. We have a blend of individuals with value systems, philosophies and priorities that tie us together. Each community gathers within it people of similarities, yet as you travel throughout the county the differences are stark. People are drawn to each other in each quadrant of the county: east, west, north and south. Each quadrant is remarkably different from the other so we find the group where we belong and settle in. Our board of supervisors is as pure an example of our differences as you can find. Each supervisor truly represents the people who put him/her in office. Right there we can see both our differences and our similarities. New supervisors replacing old represent change that has happened over the years.
What for you defines 'quality of life'?
Happiness and a sense of satisfaction in a life well-lived. I believe that we are all happiest when we feel purpose in our lives. It's one of the reasons I volunteer and encourage others to contribute to our home and the lives of others. It gives us purpose beyond ourselves and feeds our sense of self-worth. In the process we meet wonderful people and establish social connections with people who share our value systems.
What gets you really excited about your business?
Connecting people. I came into publishing through years of volunteering. Using my background and skills in marketing and public relations has been a lot of my contribution. When I was asked to take over the newsletter for the Forestville Chamber of Commerce it was a good fit for me as well as my community. Then I got excited and started doing what comes naturally...marketing my community. That led to purchasing the newsletter and turning it into a community newspaper. People reacted to the changes by telling me they felt more connected to each other and to their community. Over the years I keep expanding that connection as I expand circulation, topics of interest, community columns and resources that benefit and connect people and business in Sonoma County.
Thinking about your business, what keeps you up at night?
Working. I have created a publication that should be housed in a building with full-time staff. My passion and commitment to my mission far out-pace the income I produce. So I keep my overhead low by working in my home and hiring other entrepreneurs who seek diversity in their income. It works for all of us. I literally dream about articles, ways to connect people and promote businesses. I devote far too much time to marketing my advertisers without charging them just to get them to place ads in my paper and see the benefit to their business by reaching my readers. I live and breathe marketing and create a marketing tool in the process - my newspaper, the Sonoma County Gazette. I'm marketing people, communities and businesses. I'm selling Sonoma County.
If you could have one wish come true for Sonoma County, what would it be?
Economic stability so that people would find some peace in their lives. Being economically challenged creates amazing stress. I get rattled when I see BMWs and MacMansions in proximity to poverty and distress. I applaud ambition and drive and have disdain for entitlement and greed. No economic strata owns one or the other of these. Both rich and poor exhibit similar characteristics. I would like to see the haves and have-nots show more respect for each other. For people to feel their connections and value what each individual can offer our community. We all have something to contribute. If we saw value in each other I would hope there would be less disparity among us. People soften when they feel part of a whole - when they feel they belong - when basic needs are met.
What is your favorite quote or motto?
We are all in this together.
What or who do you most admire in Sonoma County?
Our leaders. That's a broad range of people from politicians to community organizers. People who take on the responsibility that allows others to follow. Leaders need followers and followers need leaders, but not much gets accomplished without the carrot at the end of the stick. That carrot is a leader.
What brought you to Sonoma County?
Go west young girl. I read about social changes happening out west when I was growing up in Pennsylvania while in high school. By the time I was 21, I had moved to Monte Rio because a friend offered my sweetheart and I a place to land. From there we moved about the Bay Area and when it came to decide where I wanted to put down roots, I chose Sonoma County.