About
Ignite Your Leadership Potential
We are pleased to announce that applications are now being accepted for the 2022 Leadership Institute for Just and Resilient Communities (previously the Leadership Institute for Ecology and the Economy).
FINAL application deadline is June for our Fall 2021 Class
This unique leadership development program is designed to meet the need for effective and connected leaders who can promote systems level change to create a better future for all.
Clarify your purpose and strengths
Embody the change you want to see
Build your capacity for Civic Engagement
Practice tools for Collective Leadership
Meet inspiring change makers
Join a 500+ Fellows Network
Classes meet once a month for 10 months, establishing genuine relationships and a system of support with a diverse array of cross-sector leaders, graduating into a network of 500+ Fellows.
This is an exceptional opportunity to develop your leadership skills, broaden your cross-sector network, and expand your understanding of local solutions to current issues facing our community.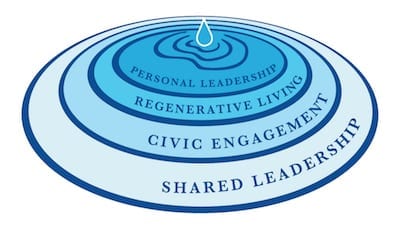 Each cohort is made up of a mixture of government, business, and nonprofit participants, creating a unique setting for rich group discussion as we apply systems thinking to focus our impact and efforts around the solutions that will best benefit this and future generations.
"The Institute helped me to think about public policy in different ways—to connect issues together in a more holistic approach and to learn more progressive and satisfying ways to solve policy challenges such as affordable housing, transportation and community development."
-- Susan Gorin, 1st District County Supervisor, Fellow 2002
The Graduates Fellows Network
Graduates of the program join an engaged network of change-makers, from state and local elected officials, to business entrepreneurs, non profit thought leaders and more. The Fellows Network, composed of more than 500 Leadership Institute graduates, gives access to seasonal networking events, ongoing education and more.
FINAL application deadline is June for our Fall 2021 Class
Questions?
Please reach out to Kerry Fugett for more information, kerry@dailyacts.org or call 707-789-9664.
Rewards Offer
All rewards require a GO LOCAL Rewards Card.
You must present your GO LOCAL Rewards Card at the time of purchase.
5% off tuition for Leadership Institute (upon program acceptance) every visit.
Videos
Invest in a Sustainable Future
Added: 9/22/11
| | |
| --- | --- |
| Monday | 9 a.m. to 5 p.m. |
| Tuesday | 9 a.m. to 5 p.m. |
| Wednesday | 9 a.m. to 5 p.m. |
| Thursday | 9 a.m. to 5 p.m. |
| Friday | 9 a.m. to 5 p.m. |
| Saturday | Closed |
| Sunday | Closed |