---
J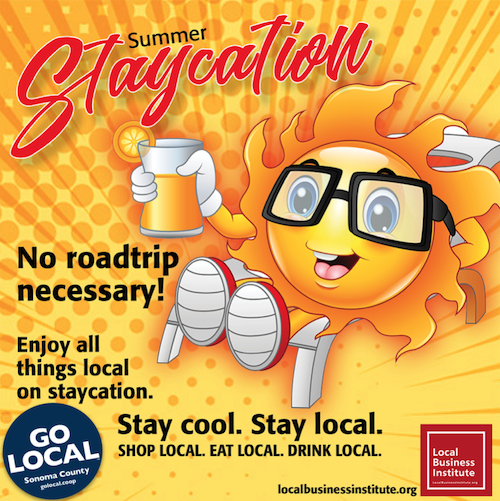 ust when we begin to emerge from pandemic life and try to recoup the lost vacations of the past couple of years, gas prices rise to skyrocket the cost of our favorite road trip. Perhaps you're undaunted. Perhaps you're considering the dreaded staying home. Fear not! You're not staying home, you're going on a spectacular Staycation!
Just like a vacation, you have to do a little planning for a truly successful staycation.
Our Staycation Challenge: Use all local businesses and go only to places you've never been.
That's right, eat at local restaurants you've never tried. Maybe La Gare or Estero Cafe. Or hit the best of food trucks at Mitote Food Park!
---

Cool isn't just an attitude.
Summer isn't summer without cold drinks. From local breweries like Russian River Brewing to frozen delights like Frozen Art Gourmet Ice Cream, it's easy to chill. Have a beach or dock nearby? Pick up some sandwiches from Pacific Market or Molsberry Market, a cooler from Friedman's Home Improvement and sunscreen from Oliver's Market and head to bask in the sun. Of course no staycation is truly complete without a margarita from El Gallo Negro!
---

Get outside.
Take a day to visit a Sonoma County Regional Park you've never been to. Grab some cool drinks from Shelton's Market or Wilibees and head out. And don't forget your favorite fur-baby. Need a new leash or toy? Check out Larsen's Feed or Western Farm Center for everything your pup needs.
---

Shop local.
A good staycation includes some shopping, but only at local businesses you've never been to, as if you're a tourist. Make a list and go to all "new" shops like Native Riders. Get a new summer top or dress at Indigenous Designs. A fresh bouquet of flowers for your table from Pedy's Petals or Capracopia will dazzle. Sandals from Birkenstock Village will leave you with happy feet! Skip the big box and shop local.
---

Be a tourist.
Most people never do the touristy stuff in the place where they live. We often roll our eyes at the thought. Give in. It's really fun. Take a tour at Korbel Winery, visit the Charles M. Schulz Museum, grab an outdoor concert at the Green Music Center or SOMO Village, see a play at Left Edge Theatre. Take a roller coaster ride at the Sonoma County Fair or bob for apples at the Gravenstein Apple Fair.
---

Summer services too.
Even though you're on staycation, sometimes you need a service—find it locally. AC not cooling quite right? Call Wolf HVAC and they'll cool you down. Trees need some TLC before the fall? Try TreePro or Alan Quality Tree Care. Don't let a flat heat you up either. Check with Santa Rosa Transmission or Green Tech Auto for summer deals on new tires. Taking a day to check off some summer chores? From hardware at Healdsburg Lumber to software at MacDaddy Repair, local businesses have you covered. You'll be made in the shade.
Near or far, vacations and staycations are all about the experience. You don't have to go far for a memorable summer.