---
This article appeared in the Bohemian June 9th, 2010 issue.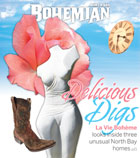 Visit the Bohemian site.
---
Written by Caroline Osbourn for the Bohemian.
Shift Happens
GoLocal's plan to save independent stores and net $32 million
Terry Garrett thinks Sonoma County is weird, and he wants to keep it that way. "If you have a lot of locally owned businesses, you have more character in the community," he explains in a comfortable Southern twang. As the co-managing member of Sustaining Technologies and the current operations officer for the Sonoma County GoLocal Cooperative, Garrett's ready to help independent businesses and their customers interact with each other in a new way.
In February, the Sonoma County GoLocal Cooperative took preliminary steps toward establishing a countywide credit-clearing system. Fancy economic jargon aside, credit clearing fosters a network of exchanges between local merchants and residents. Based on a new and innovative economic theory, the system encourages people to patronize locally owned independent businesses by offering discounts and rewards.
Santa Rosa Community Market, Osmosis Day Spa Sanctuary, Infusions Teahouse and Cricket Landscapes have already signed on to participate, and GoLocal plans to incorporate 50 other area businesses by October. The message is that when people spend money within their community, that money recirculates locally instead of leaking into the pockets of faceless corporate hounds. This is called the economic multiplier effect.
The GoLocal team likes to talk about "making the shift happen," which is an exciting idea even beyond its delightful marriage of vulgarity and reform. According to Garrett, Sonoma County residents spent $12.8 billion in total shopping in 2007. If residents could shift just 1 percent of their purchases from an out-of-county owned business to a locally owned business, Garrett estimates we could pump $32 million into our county's economy.
"Our mission is to reclaim our local economic power," Garrett says. "Part of that is getting control of our money supply. Credit clearing is the perfect way to do that."
But how does it work? Say Phil spends $25 at a local bookstore. He pays the cashier $25, and the cashier applies a credit to his GoLocal account worth $1.25, 5 percent of his purchase. High on the dopamine rush of a shopping spree, Phil then patronizes his local music store for a total of $30. The cashier swipes his card, sees his $1.25 credit, and only charges him $28.75. She then replaces the redeemed credit with a new credit of $1.44, or 5 percent of the amount he paid. When businesses trade with one another, the GoLocal credit system also applies, and in this way they make up the debits incurred by exchanges with customers.
Garrett's next step in system design will allow a participant with a surplus of credit to assign that credit to a charity, a nonprofit or a school. If a credit-clearing system defines internal trading within a community, businesses can more easily settle their debts to one another without depending on loans from big banks that will demand interest and an unnecessary drain on finances.
Sonoma County is the first region to implement a fully digitized local credit-clearing system on a large scale that includes residents and merchants. Previous experiments have revolutionized the way businesses trade with one another but overlooked the expanded opportunities possible when the customer participates. Credit clearing will not involve lugging around more cumbersome coins, paper money or coupons. All that is needed is a swipe card.
In addition to the discounts involved in the credit-clearing system, the card will also track a patron's visits to each store individually. Like a streamlined version of a coffee card, the GoLocal card alerts merchants when a shopper reaches that 10th visit or 100th dollar spent at their store, thus ensuring receipt of the resultant free gift or extra discount.
Not everyone is eager to jump on the GoLocal bandwagon. Kathleen Stroh, former owner of a GNC chain store in Sebastopol, questions the accuracy of the San Francisco study touted on GoLocal's website as evidence of the multiplier effect. She critiques the small sample size of 10 local stores versus 10 corporate stores.
"The local businesses self-reported their numbers," Stroh says. "Secondly, the people running the study couldn't get data from corporate stores, so they chose numbers from the stock exchange and took an average. That is ridiculous." But Stroh has no quarrel with GoLocal's intentions; her experience as the owner of a chain store has prompted her wish for GoLocal to clarify that "they're talking about independent businesses—not local businesses."
Garrett stresses that the strength of the system comes from the fact that it is "based on trust and credibility and reputable management." He believes in a turn toward community focus and says that a distraction from this mindset "got us into the trouble that we're in now with all of our major finances. People in charge didn't look at the human scale of things; they only looked at spreadsheets and algorithms and computer models that said, 'How do we extract value from a vast free market for ourselves?' not 'How is it serving our society?' or 'Is it causing harm somewhere else?'"
With massive chains like Wal-Mart claiming 25 percent of U.S. grocery sales and raking in $340 billion worldwide (more than the GDP of most countries), one starts to feel bleak about the fate of that favorite independent store with its soul still intact. But Garrett reminds that consumers have power. "There are a lot of people who think that free market means big guys can kill little guys, much like we think of sharks eating smaller fish and so on down the food chain," he says. "But markets don't really behave that way. It's an overly simplistic way of thinking about markets. Markets have to have a community to exist."
Throughout even the densest explanations of economic theory, Garrett emphasizes the cultural importance of independent businesses. "Look at states like Florida or anywhere throughout the South where they've lost most of their locally owned independent businesses. You could paratroop down and not be able to identify where you are. The local character has been lost," he mourns. "We're really fortunate here not to have lost that. We want to preserve it."