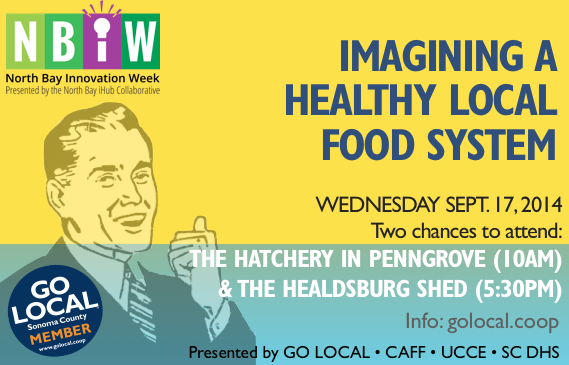 ---
"The entrepreneur shifts economic resources out of an area of lower and into an area of higher productivity and greater yield."
J.B. Say (French economist) around 1800.
The world needs food system entrepreneurs. Along with entrepreneurship comes innovation. They're two peas in a pod.
---
Sonoma County has an exceptional opportunity to have more than its fair share of innovating entrepreneurs growing our regional food system and consequently our local self-reliance.
We have the requisite capital resources of land, agricultural knowledge base, infrastructure and financing capability.There's one more thing we have, which if harnessed, can fuel our growth with speed and wealth-building sustenance.
Consumer purchasing power equal to $2.1 billion spent on local food retail purchasing in Sonoma County.
Applying a socioeconomic innovation—import substitution—to the food system, we can inject hundreds of millions of dollars into our local food economy. It means simply to look at what food we import (sending our money away), and instead, grow and produce that food here (keeping our money here recirculating).
After all, businesses exist to create a customer. When you, as a customer, match up with local businesses you help their mission, and they in turn feed back into our local economy.
---
North Bay iHub Innovation Week will feature two events on September 17th that highlight the socioeconomic innovation mentioned above, plus feature several entrepreneurs who will describe what innovation they're doing to increase the yield of our food resources.
IMAGINING A HEALTHY LOCAL FOOD SYSTEM
Growing, producing and selling local food will lead to greater local self-reliance. Currently we grow less than 1% of our local produce. We do much better in the areas of dairy and meat production. There is tremendous, local consumption demand for healthy, processed foods.
---
ONE
FREE

EVENT AT TWO LOCATIONS, SEPTEMBER 17TH
SPEAKER LINE-UP
---

The HATCHERY (10-11:15 AM) - RSVP here.
6,000 sq. ft. facility built in 1917 as an egg hatchery Penngrove (near the 101) and has been restored by new owner Bill Foss.
The Healdsburg SHED (5:30-6:45 PM) - RSVP here.
A modern grange located in downtown Healdsburg.
Limited seating capacity—please RSVP and first come, first served.
---
CO-SPONSORS
GO LOCAL • UCCE • CAFF • Sonoma County Department of Health Services
---