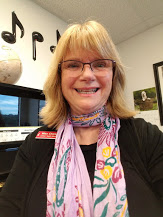 ---
Cheryl Franklin with Cheryl Teach Music
GO LOCAL Member since 2016
What is your fondest memory of living in Sonoma County?
Roller skating in Spring Lake Park!
Describe what you experience as the greatest treasure of Sonoma County.
Being able to veiw and listen to a world class symphony orchestra, in a world class symphony hall, The Green Music Center!
What for you defines 'quality of life'?
Trees, places to walk. Work, home. Walking my dog. Enjoying tme with family, friends and my students.
What gets you really excited about your business?
Seeing, being with and helping my students learn music.I love it when the little light bulbs go off, the little epiphanies.
Thinking about your business, what keeps you up at night?
Lesson plans, music, books, special songs and ways to assist each student.
If you could have one wish come true for Sonoma County, what would it be?
No distracted driving, keep everyone safer.
What is your favorite quote or motto?
My motto is, " The more you play, the more fun you have. The more fun you have, the more you play!"
My favorite quote from me is," Everytime you play or sing, you make the world a better place."
What or who do you most admire in Sonoma County?
Charles Schulz
If you're not a native of Sonoma County, what brought you here?
My mom lived here annd she said, " Honey, I know you will LOVE it up here!" . And I most certainly do.