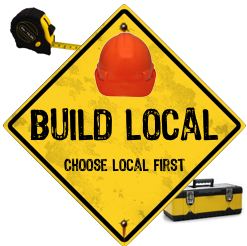 ---
Chances are you know someone who works in the "building" field. Build Local represents "building" in a broad sense -- home improvement projects, remodeling, energy conservation, landscaping, gardening, going solar and new construction. GO LOCAL encourages you to choose locally-owned companies first when making contracting or purchasing decisions.
Nearly 20,000 Sonoma County residents are employed in the building field, which includes construction and retail related businesses. That's about 10% of total employment for Sonoma County. Needless to say, commercial and residential development has been hit the hardest since 2007. You can download a construction industry report here from the Economic Development Board of Sonoma County, which gives a current perspective.

What can you do to support Sonoma County's building contractors and retailers?
Make a local first choice. You need some lumber and nails, decide to go to Friedman's Home Improvement. You are installing new flooring to a room, choose Conklin Bros. or Empire Floors. Maybe you're planting a garden, or landscaping, choose Emerisa Gardens, Instant Jungle Bamboo & Palm Nursery, Wyatt Irrigation, or Leff Landscape.
Every time you choose a GoLocal business member and make a purchase, more of what you spend stays local and goes to support the jobs these businesses represent.