Jan. 31, 2011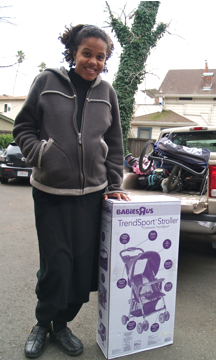 Community First Credit Union, a 12,000-Member financial cooperative chartered to serve residents in Sonoma County, gathered 28 strollers from its Members on behalf of The Living Room, Santa Rosa's day center for women and their children who are homeless.
In addition to the strollers, some of which were in pristine or even still-in-the-box condition and all in great working order, Community First donated $10 per stroller to The Living Room. To make it worth the while of its Members, the credit union steered another $10 into the account of each donating Member.
The Living Room is the only daytime drop-in center in Sonoma County that serves homeless and at-risk women and their children. It fills a special need in conjunction with other community agencies, providing clients with a place to be during the day when shelters are closed. The Living Room is also a critical first stop for women who are on the verge of becoming homeless, the first place that at-risk or newly homeless turn to for relief and referral guidance.
"Putting something back into the community is what a community credit union does," said Pat Duncan, manager of the financial cooperative's College Avenue branch, and just a block away from The Living Room's location at 636 Cherry St. (between Mendocino and Humboldt).
"The Living Room is making a positive and profound difference in the lives of local women and their children. When we asked what we could do to help, Marcy Clausen, vice chair of its Board of Directors, said there is always a chronic shortage of strollers, which can be the primary mode of transportation for many of the women and kids," Duncan explained.
For more information about The Living Room, contact them at 707/579-0138 or www.thelivingroomsc.org.
Have a spare stroller at home, or know someone who does? Community First will launch its third annual stroller drive Nov. 1, 2011.
Community First has provided banking services to Sonoma County residents for 50 years. It has two full service branches in central and west Santa Rosa, "smart offices" in Sebastopol and (soon) Guerneville, and loan offices in Healdsburg and Santa Rosa. It was founded by Sonoma County teachers in 1961, but converted to a "Community Charter" in 1999 that allows any resident or student in Sonoma County to be a Member.
Contact: David Williams, Corporate Communications
707/543-2623 (direct line), dwilliams@comfirstcu.org
1105 N. Dutton Ave., Santa Rosa, CA 95401